Digital Networking Dominant Theme during GOLD Summit Weekend
---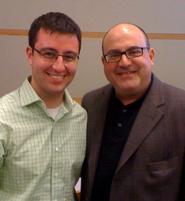 Alumni and students had the opportunity to experience the power of the college's alumni network firsthand at the GOLD (Graduates of the Last Decade) Summit on April 16-18. The weekend's activities began Friday with a panel discussion led by Director of the Career Center Kino Ruth with a select panel of alumni, faculty and friends. Later in the evening alumnus Paul Lieberstein'89, writer and actor for NBC's
The Office
, described his circuitous path from a major in economics to Los Angeles and a writing and acting career during his performance in Wellin Hall.
Introduced as an "online commerce pioneer" by Dean of Faculty Joe Urgo, Blake Darcy '78 presented "A User's Guide to the Hamilton Network" at Saturday's opening session. Darcy, who was founder and CEO of the online brokerage firm DLJdirect and who currently serves as CEO of online money management firm Formula Investing, spoke about building a personal brand and the nuances involved in communicating with alumni of various ages. His presentation addressed the importance of one's online presentation, the possibilities and pitfalls of social networking and the importance of choosing the appropriate communication vehicle for every contact in one's network. Darcy also spoke about Hamilton Venture Capitalists, a network established for those starting and servicing new ventures.
"Selling the Value of the Liberal Arts" followed Darcy's presentation and offered three different sessions: for current students and new graduates, for those considering career changes and for those seeking to move forward in their chosen fields. Presenters spanned a wide range of careers and ages and included Jerome Noel '09, assistant account executive at Grey New York; Nicholas Rockwell '08, account manager at Canaccord Adams; Amy Greenan '04, senior consultant at Booz Allen Hamilton; Jennifer Potter Hayes K'73, executive director at the Old Forge Arts Center; Alexandra Stevens '95, lawyer turned librarian; Katy Milmoe '99, account director at Euro Rcsg; Nina Sharma West '01, director of development at The Ad Council; Joe Rowbottom '99, owner, All Things Marketing; Paul Gillespie '84, owner, PGM Strategies, LLC and Kate Faison Spencer K'79.
The day's final sessions, organized under the title "Time to Get Professional," focused on professional development skills. One of these, "Analog Bosses and Digital Applicants: Using New Technology and Social Media to Advance Your Career," featured an interview conducted by CNN Audience Interaction Producer Eric Kuhn '09 with digital media expert Shelly Palmer P'11,'13, author of
Get Digital: Reinventing Yourself and Your Career for the 21st Century Economy
. Kuhn and Palmer explored how using social media can advance one's career.
Palmer discussed how to make a resume as digital as possible, the format for a resume submitted with a job application versus one maintained on Facebook and LinkedIn, the considerations in loading a photograph with a resume, the dangers in having a sense of entitlement, the importance of correctly assessing one's value to an organization and the high value of digital literacy.
In answering how one should identify a possible career path, Palmer suggested that students consider how they want to spend the workday, what is interesting to them and what they might be willing to do. He suggested that a liberal arts graduate typically has the ability to transform information into knowledge, a critical talent in a world that is evolving into "only data points." A liberal arts graduate, according to Palmer, can "synthesize and offer solutions, add opinion and context to data, assemble data points and know how to operationalize them."
In an interview situation, Palmer suggested that an interviewee consider asking the interviewer, "What keeps you up at night? What is your biggest problem?" A candidate who is able to offer digital solutions will be particularly valuable to an organization. One of his closing comments was "We are in a culture where technique can be mistaken for creativity." Palmer urged the audience to keep up with technology but, more importantly, to keep their creativity engaged.
Other programs under the "Time to Get Professional" umbrella included "Planning an Effective Job Search" with Don Chizzonite '77, Stephen Stemkoski, director of human resources at Hamilton, and Kino Ruth, director of the Career Center, and "Managing Relationships: Consensus Building and Leadership in the Workplace" with Alex Mucelli '86, founder of Kythera Capital Management.