ACC Students Visit Ancient Starting Point of the Silk Road
---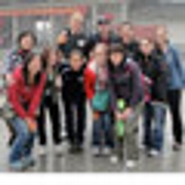 Along with classmates from more than 20 other colleges and universities, Hamilton students currently studying abroad with the Associated Colleges in China (ACC) program recently traveled to Xi'an, one of the four ancient capitals of China. In addition to viewing the Terracotta Warriors, one of China's most famous attractions, students also had the chance to explore the Muslim Quarter, an area of the city made distinctive more than 1000 years ago by Xi'an's status as the eastern starting point of the Silk Road. The blend of cultural practices in Xi'an stem from the products and ideas transmitted along the Silk Road, as well as from the merchants themselves.

The ACC is administered by Hamilton College and hosted by Capital University of Economics and Business in Beijing. Hamilton students in Beijing this semster are juniors Colin Clark, Cristina Garafola, Matt Gessen, Jeremy Gleason, Zachary Haluza, David Loan and Gabe Rosen.

Other activities ACC students have enjoyed during their study in Beijing include visits to culturally and historically significant areas in China's capital, such as the Forbidden City and Beijing's hutongs. Students have also participated in debates with Beijing college students, interviewed Beijing natives about issues like China's one-child policy, and experienced Chinese family life firsthand by visiting with their Chinese "families."

For many students, the opportunity to study abroad at ACC and experience China through travel to places like Xi'an is ultimately made possible by scholarships and grants. Students can apply for a number of scholarships, including Fulbright scholarships offered via the U.S. Department of Education Fulbright-Hays GPA program. The objective of these merit-based scholarships is to encourage international understanding and cooperation by giving students the opportunity to improve foreign language skills in countries in which America has a diplomatic presence.