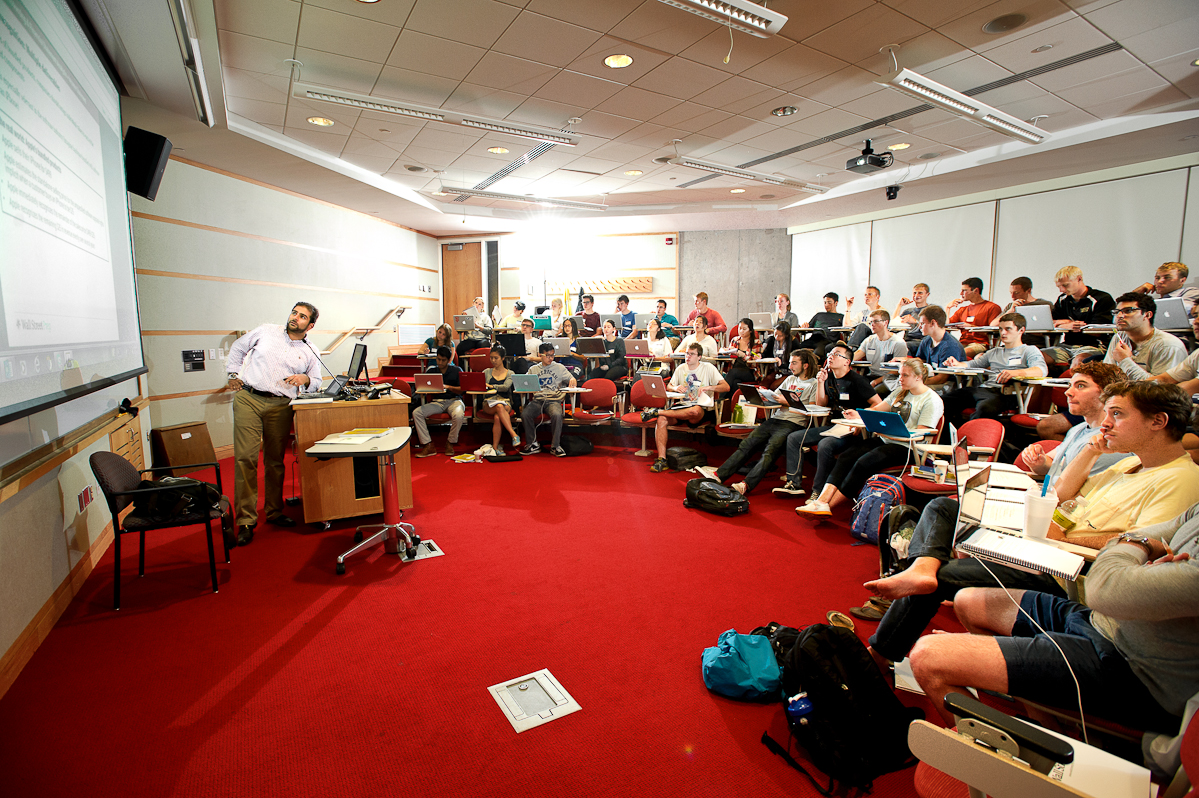 Fifty Hamilton students had the chance to take part in an intensive, 12-hour boot camp in accounting and financial modelling over fall break, thanks to a generous donation by alumni. The course provided a wonderful addition that enriched students' liberal arts experience and enhanced the profile of students interested in top investment banks, private equity firms, investment funds and business schools. The boot camp was organized by the Career Center.
Haseeb Chowdry, assistant vice president in Barclays Wealth's Business Assessment & Strategic Analytics team, led the boot camp. Before Barclays, Chowdry spent two years as an investment banking analyst at Jefferies focusing on maritime, offshore and logistics companies. He stressed that participating in the class meant access to him as a resource – whether for interview prep or extra aid on any of the real-life examples Wall Street Prep presents as exercises.
Students who participated were asked to self-study parts of the material beforehand. The course quickly delved into the intricacies of finance, packed full of useful information about income statements, balance sheets and cash flow: the myriad different components and how they interrelate. While the class was at full capacity, the sessions were interactive and engaging through a number of Q&As and exercises to guarantee participants' understanding. At the beginning of the course, most of the students had some familiarity with accounting, but few understood the fundamentals in depth. After the first productive, albeit tiring day, the class was able to walk through a "10-K" without much difficulty.
On the second day – an eight-hour stretch – students dealt with the ins-and-out of financial modelling. As with the first day, real-life examples were used, and students learned how to perform financial analysis and evaluate a company through case studies.
Following along with the instructor on their own Excel sheet, students built a basic model: developed a historical income statement with information extracted from the 10-K, projected the income statement, the balance sheet and the cash flow statement (with the appropriate debt schedule, interest expense and income), as well as performed sensitivity analysis and adjusted the historical income sheet to prevent forecasting errors.
One of the students, Dhanika de Silva '15 commented: "I've contributed to DCFs and forecasting analysis at a previous equity research internship, but this has helped me a lot in understanding the nuts and bolts of financial modelling." Andrew Yates '15, added, "The course is directly relevant for individuals that have had internships in finance and will help fill gaps in knowledge and preparation, as well as provide a good two-day refresher on financial forecasting and corporate valuation ."