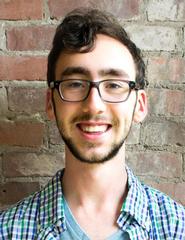 Although the "Midwest" is a generally understood term, a definitive list of Midwestern states does not exist, which calls into question exactly where this region lies. Kevin Welsh '15, who's pursuing an Emerson Project with the supervision of Carolyn C. and David M. Ellis '38 Distinguished Teaching Professor of Comparative Literature Peter Rabinowitz, was faced with this dilemma when he started his research. His project, "Uncovering the 'Quality of Distortion': Investigating the Cultural Divide Between the Midwest and the East Using Midwestern Literature from the 1920's and 30's," requires an understanding of what "the Midwest" means.
Welsh, a French and government double major, found inspiration for this undertaking in F. Scott Fitzgerald's classic novel, The Great Gatsby. Being a Long Island native, Welsh was bothered by the suggestion that East Coast culture had somehow tainted the morality of the Midwestern characters, believing instead that they weren't wholesome to begin with. To study this phenomenon, Welsh has divided his project into three parts: understanding the Midwest (geographically and culturally), understanding why the authors chose to move East, and discovering how their identity had been changed or reinforced as a result.
To accomplish this, Welsh is reading a selection of short stories and novels by authors such as Ruth Suckew, Sherwood Anderson, Willa Cather, Bess Streeter Aldrich, F. Scott Fitzgerald and Ernest Hemingway. Welsh pointed out the plethora of literature, explaining that during these decades short stories were the preferred medium for successful authors, who gained a steady income by publishing them in magazines and anthologies.
Although he is not yet halfway through his project, Welsh has taken note of several common themes among Midwestern authors, most of which boil down to one word: expectant. In comparison to the "fast and loose" lifestyle in cities like New York, the Midwest has much less individual freedom. During the era of prohibition, Midwesterners relied on family values and religion to maintain their culture; while the East embraced extravagance and revelry. However, Welsh admitted that it's unclear whether these values are reflective of the region's ideologies, or simply those of the era. Regardless, it is clear that Midwesterners of the early twentieth century valued loyalty to the family and the homestead, and found cities overwhelming, crowded and far-off.
Welsh is a graduate of Chaminade High School in Mineola, N.Y.