Adirondack Adventure and USE Welcome Class of 2013!
---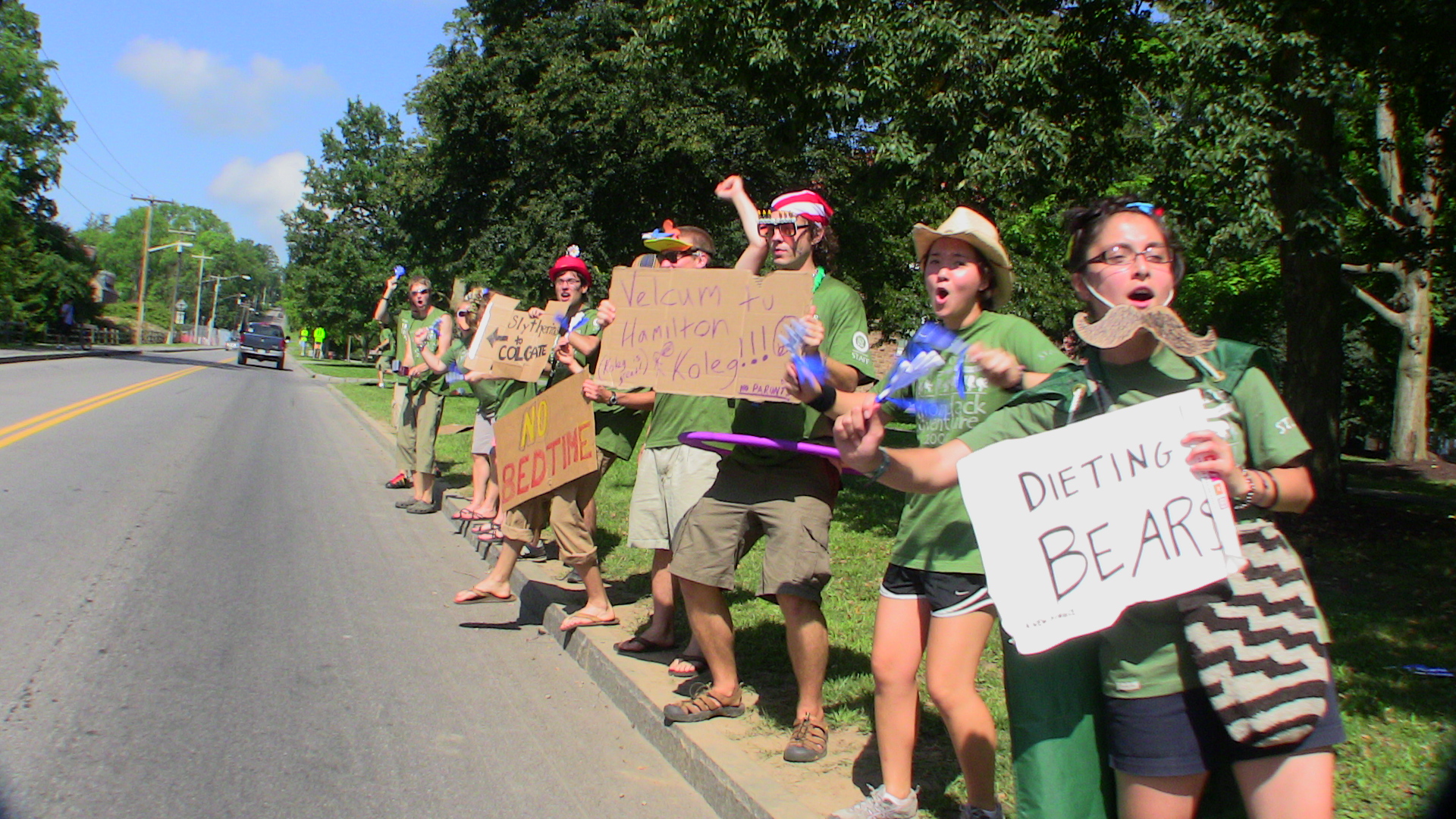 Adirondack Adventure (AA), Hamilton's eight-day outdoor program for incoming students, and its sister program Urban Service Experience (USE), welcomed 246 members of the class of 2013 on Aug. 14.

AA, celebrating its 25th year in 2009, is a pre-orientation program featuring 27 trips that focus on hiking, canoeing, rock climbing or kayaking at beginning, intermediate or advanced ability levels. All trips are conducted in various locations in the Adirondacks. USE is a few years old and offers a parallel option to Adirondack Adventure for those students who are not interested in outdoor trips, but would like to participate in a pre-orientation group. They volunteer at non-profit agencies in the nearby city of Utica and "camp" indoors at a downtown Utica site.

Andrew Jillings is director of outdoor leadership and the Adirondack Adventure and brings the philosophy of "Challenge By Choice" to the program. It is a leadership practice that allows people to choose when and where they want to stretch their comfort zone. Its goal is to provide a safe and effective learning environment, both mentally and physically.

Jeremy Wattles, assistant director of Hamilton's Community Outreach & Opportunity Project and a USE leader, noted that "Our five trips had 34 participants this year, and between our first-years and our leaders, we donated more than 900 service hours to the local community."

The AA and USE programs are unique among colleges in that they bring alumni back to campus to serve as program leaders. Other leaders include faculty, staff and upperclass students who have participated in at least one other Adirondack Adventure or USE trip and also have been trained as leaders.

Participating students in AA and USE arrive on campus for move-in and orientation on Friday, August 14, before the college's regular orientation. This program allows them to start college with a group of new friends and spend some time learning and having fun in a large recreational area within an hour's drive of the campus. "College is all one package, the academic and the extracurricular. Learning doesn't stop when you leave the classroom," says Jillings. At the conclusion of all the trips, students also participate in a high ropes course and other activities that emphasize cooperation, team-building and overcoming personal fear.

Adirondack Adventure and USE students spent Aug. 15 on campus preparing for trips, and then departed on Sunday, Aug. 16, for their three-and a half-day wilderness or service trips. They all returned on Aug. 19 to Outdoor Education Centers, where they participated in high ropes challenge activities and an awards ceremony before they headed back to campus on Aug. 21 to join other members of the class of 2013.