Adirondack Murder Documentary to be Screened
---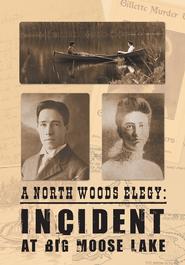 A North Woods Elegy: Incident at Big Moose Lake, a documentary film about the 1906 murder of Grace Brown by Chester Gillette, will be shown on Tuesday, Feb. 7, at 7 p.m. in Bradford Auditorium in the Kirner-Johnson Building. The 62-minute film was produced and directed by Derek Taylor, an assistant professor at Southern Connecticut State University. The event is free and open to the public.
The program will include an introduction by Taylor. He will also lead a question and answer session following the screening with Craig Brandon and Jack Sherman, Gillette case experts.
The documentary investigates the circumstances surrounding the murder of Brown on Moose Lake in the Adirondacks. Focusing on the ensuing trial and Gillette's subsequent incarceration and execution, the film explores the fascination America had, and still has, with the "murder of the century," as it became known. Interest in the case was sustained by Theodore Dreiser's classic novel, An American Tragedy, and the 1951 Academy award-winning film, A Place in the Sun, both of which were inspired by the murder. In 2006 the Metropolitan Opera in New York City performed an opera also based on the case.
Although, the Gillette/Brown story has been told via novels, films and stage productions, no factual story has ever been presented on screen. A North Woods Elegy does just that while addressing issues of class, jurisprudence in America at the turn of the 20th century and ethics and sensationalism in news reporting. Taylor, in collaboration with Craig Brandon, author of Murder in the Adirondacks, and Jack Sherman, editor of The Prison Diary and Letters of Chester Gillette, revisit this famous historic incident in the documentary.
Re-enactment scenes were filmed at several locations in and around central New York during the summer of 2009. The scenes of Chester and Grace's courtship were filmed in a private residence in Clinton. With the help of Friends of Historic Herkimer County, re-enactment scenes of Chester in his jail cell were filmed at the 1834 Herkimer County Jail. The women's side of this jail also doubled as Auburn Prison, where Gillette was executed in 1908.
In addition to Adirondack landscape footage, property owned by Hamilton College was used to represent Big Moose Lake, the site of the murder. Hamilton also provided access to its extensive collection of original archival materials associated with the case, including Grace's famous love letters to Chester and Chester's prison diary.