Adventurer Andrew Skurka Recounts Explorations
---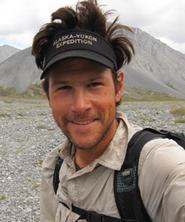 Andrew Skurka boasts an extraordinary resume—he has been named Adventurer of the Year by National Geographic and Person of the Year by Backpacker Magazine, and has under his belt more than 30,000 miles of backcountry trekking, skiing, and packrafting. Though Skurka's accolades and achievements are undeniably laudable in and of themselves, perhaps most impressive is the rapidity with which he has established himself as one of the nation's foremost adventurers. Beginning in 2002 at the age of 20, Skurka has spent the last nine years conquering some of North America's most foreboding wildernesses, pushing himself to the limit in the name of adventure.
On Feb. 28, Skurka visited Hamilton as a guest of Director of Outdoor Leadership Andrew Jillings and the Hamilton Outing Club. Skurka gave two presentations—an afternoon workshop in the Glen House gave participants an opportunity to learn some of his minimalist, lightweight backpacking techniques, and an evening lecture in the Kirner-Johnson Bradford Auditorium covered his early career and explorations, focusing on the many ups and downs of his most recent trip, a 6,700 mile, 11-month solo journey in the expansive Alaska-Yukon wilderness.
Growing up, Skurka had always imagined that his future was in the stock market. He began studying at Duke University in 1999 after graduating from high school. A counseling job at what Skurka calls a "high-adventure summer camp" in the Blue Ridge Mountains gave him his first taste of wilderness adrenaline, and he realized that he did not want to spend his future in an office building. Soon after graduating, he embarked on his first long-distance trek—the 2,170 mile Appalachian Trail—and he hasn't looked back since.
Skurka has many long-distance adventures to brag about; in addition to finishing the Appalachian Trail, he hiked a "sea to sea" route from Quebec to Washington and his "great western loop" took him through nine states on a 6, 875-mile, 208-day journey in the western US. Skurka's crowning achievement, though, is his solo journey through one of the harshest, least explored environments in the western hemisphere: the Alaska-Yukon wilderness.
Skurka began his Alaska-Yukon expedition in mid-March 2010, 30 miles inside the Arctic Circle in a small Alaskan city called Kotzebue. The forecasted high temperature on his planned first day of hiking was -15, the low a chilling -29. Skurka waited out the cold for 24 hours, setting out the next morning (although even the next day's temperatures were only warmer by about 4 degrees). One hundred seventy-six days later, Skurka returned triumphantly to Kotzebue, having skied (1,315 miles), trekked (2,100 miles) and packrafted (1,270) his way through multiple mountain ranges, over barren tundras, and across near-frozen waterways, all by himself.
Over the course of his Alaska-Yukon expedition, Skurka experienced the highest highs and some of the lowest lows of his entire life. The scenery was breathtaking and his sense of accomplishment upon the trips completion was the greatest feeling in the world, he says. But the trip was punctuated by more than a few harrowing situations—he was charged by a grizzly bear, attacked by swarms of hungry black flies, and at one point spent nearly a month without crossing a road or seeing another human being. Despite the hard times, Skurka thinks that tremendous sense of self-worth makes trips like the Alaska-Yukon expedition worthwhile. He doesn't have immediate plans now for his next endeavor (his time has lately been spent speaking and writing about his experiences), but wants to stay true to the hunger for adventure that has guided him well so far.