African Literature Topic of French Department Lecture
---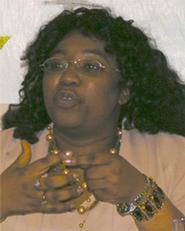 Cecile Dolisane-Ebossé, a professor at Cameroon's University of Yaoundé and currently a Fulbright Scholar at Emory University, will present a lecture titled "Cultural Identity and Political Violence in African Literature" on Tuesday, April 6, at 8 p.m. in the Red Pit. Presented by the French Department, the lecture is sponsored by the Dean of Faculty Office and is free and open to the public.

Dolisane-Ebossé will discuss "how a loss of sense of history and social structures in post-colonial Africa has lead to vulnerability and abuse, how revisiting pre-colonial social organizations will help reverse the loss of identity and why African women can and should inspire the fight against corruption and violence."

Dolisane-Ebossé received her Ph.D. in literature from the University of Toulouse, France. The author of articles on African and African American literatures, she has been teaching in Cameroon since 2005.