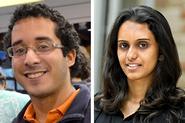 The morning sky was still dark as 32 finely dressed young men and women walked up the Hill and boarded a bus to New York City on April 9. For most, this was the first time that they would see high finance in action. The "Tour de Wall Street" consisted of three major stops: the asset management/insurance institution AIG and two investment banks, Citigroup and Deutsche Bank.
At each company, the students received a warm welcome from a squad of alumni who shared their background stories, insider perspectives on recruiting processes and information on their institutions' structures. They were glad to see students starting their career exploration process before their senior year. "It is really great that you are getting started early, especially since hiring is getting more and more competitive," said Clayton Hale '94, a Citigroup managing director.
Co-organizer Rashveena Rajaram '16 summarized the project. "Ramon and I spent a few weeks planning the trip, and I'm glad it turned out to be so successful. This wouldn't have been possible if we didn't have such an enthusiastic and professional group of students and a dedicated and helpful alumni network in finance." Rajaram and Ramon Villalona '16 also lead the Finance Club during the 2015-16 academic year.
First-year student Paul Giuliano summarized the students' gratitude: "I really appreciated the time the alumni took out of their busy day to assist current Hamilton students. It is great to see past Hamiltonians excited to help current students. They highlighted what is necessary to succeed in the industry and encouraged us to reach out for any future assistance. The trip greatly enhanced my understanding and passion for finance, and I look forward to similar trips in the future."
"Rashveena and I worked to secure funding and alumni presentations, but hearing how much the students benefited was most gratifying," concluded Villalona. He also noted that he was pleased that the participants were nearly evenly split, male and female.
"I certainly have a better understanding of finance, but more importantly, the trip made me realize how strong our alumni network is in finance," said Mike Yang '18. "Hamilton alumni have motivated and supported me to pursue a career in finance in various ways, and the trip definitely helped to build up my connections."
If the college's copper bust of Alexander Hamilton could move for an instant and then freeze again, his face would be grinning. His legacy of finance and economics lives on at his college.