Akilah Bond '09 is Named Hamilton's Sixth GOLD Scholar
---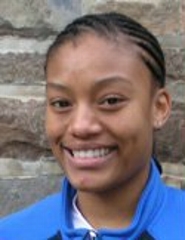 Hometown:
Amherst, Mass.
High School:
Amherst Regional High School
Major:
Government
Minor:
Psychology
Last movie seen in theaters:
"The Great Debaters"
Last book:
J.K Rowling's "Harry Potter and the Deathly Hollows"
Favorite Music:
Doesn't discriminate, but prefers classic soul/R&B like Barry White and Luther Vandross
Thanks to the generous support of its young alumni, Hamilton College is pleased to name Akilah Bond '09, of Amherst, Mass., as its sixth GOLD Scholar.
A lifelong resident of Amherst, Bond grew up with two younger sisters who she views as role models in her life. As much as they learned from her, she learned from watching them grow up and care for one another. When it came time for her to start thinking about College, she thought about Amherst, but it was a little too close to home. Her parents, ever supportive of their eldest child, were open to letting her explore her own line of thinking. So when they headed west to Clinton, NY, they weren't quite sure what they would find.
The moment Akilah arrived for her tour and interview at the Admission office, however, she immediately saw herself as part of the campus. Her tour, lead by Ben Critton '06, reinforced those initial feelings, as she felt natural and at home with the current and potential students. And a stop through Commons for ice-cream bars and a breather nearly sealed the deal right on the spot. Add to that an open curriculum, a devoted track coach and limitless options after graduation and she was sold. Akilah applied EDI and was accepted in December.
Eight months later, Akilah moved into the third floor of Dunham, met her soon to be best friends and let her experience take off from there. "Orientation was like camp Hamilton," she said "which was great, but I was in shock once she began the semester." Though she could always write papers in high school, she quickly realized that Hamilton would not allow her just to breeze by.
Her first semester included psychology and government courses, of course, but also featured a class called "Women in Madness" with Professor of Women's Studies Margaret Gentry. "It's just so cool that it was an option; I had to take it," Akilah recalled. And after reading Sylvia Plath's The Bell Jar, she was struck by the way in which she could relate passages to real life. "While I sympathized with the main character, who felt as though her possibilities were limited and that she would have to choose between a career and a family, etc. I also felt privileged to be attending Hamilton where the possibilities for my future seem endless despite the fact that I am female."
Akilah saw freshman year as a time to acclimate and get accustomed to the pace and lifestyle of College. In addition to coursework, Bond immersed herself in volunteer and community service programs and indoor/outdoor track, learning time management skills, which she quickly applied. In the fall of 2007, she took "Politics and Russia," with Assistant Professor of Government Sharon Rivera, taught in tandem with the service-learning program SHINE (Students Helping in the Naturalization of Elders) in which she regularly traveled to Utica to work at a refugee center teaching English and helping foreign evacuees to adjust with their new environment.
"It was an amazing experience to be able to teach and help people who were genuinely excited about me being there. We would use learning exercises to teach them English and it was really rewarding to see them improve—some of the learners started out speaking very little to no English, so it was a really special experience. I also found that the learners were just as interested in my plans for the future as I was to help them learn how to communicate in English, it was very refreshing."
In addition to being a talented student and volunteer, Bond truly shines in track and field competition. Cheered on by her friends and teammates, and driven by assistant track coach Jerry Tine who taught her "the discipline of setting goals, achieving goals and then setting goals even higher," Akilah was named the
2006 Liberty League Rookie of the Year
and in the spring of this year, she received top national honors and was named to the women's track and field All-America team (
read more by clicking here
).
A student caller for Hamilton's Annual Fund, Akilah is well aware of the positive impact alumni have on Hamilton everyday. Hearing their experiences helps to drive Akilah toward her goals. Focused on completing her major in government, minor in psychology and preparing for the LSAT exam, she hopes to attend law school and practice criminal justice after graduation. With help from her advisor Ted Eismeier, professor of government, Bond is no doubt on the right track.
GOLD Scholars is an initiative supported by the Annual Fund, which has always provided direct support for the College's most important current priorities, especially scholarship aid. Starting last year, gifts from the GOLD Group – Graduates of the Last Decade – specifically support students on campus. With each $15,000 increment collectively contributed, the College will select a student as a GOLD Scholar for 2007-08.