Alexander DeMoulin '12 is Hamilton's 33rd GOLD Scholar
---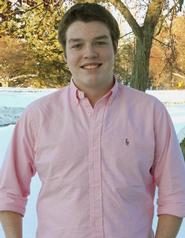 Hometown: Portland, OR
High School: Grant High School
Major: Russian Studies
Minor: Government
Campus activities: Ballet, Phonathon caller, Oral Communications Center tutor, Russian Club president, Hamilton College Republicans
Last Movie Seen in Theaters: Black Swan
Favorite Movie: Dangerous Liaisons, anything British humor
Favorite Song: Chopin: Nocturne in E flat, Op. 9 No. 2
Place you've lived on campus: South, Bundy West, Babbitt, Milbank
Last Book Read: Anna Politkovskaya, A Small Corner of Hell
Favorite Book: Christopher Hitchens, God Is Not Great
Hobbies/Interests: classical ballet, classical piano, geography, Slavic history, rural locations, France/French culture, dry humor
Place on Campus: Minor Field, late spring or early autumn
Campus Dining Location: Commons breakfast, at 7:30 and with the full paper
Fondest Hamilton Memory To-Date: Thanksgiving 2008, at my Russian lit professor's house with almost half the English department
Favorite Quote: "Art is the lie that enables us to realize the truth." -Pablo Picasso

Where did you grow up and what was life like there?
I was born and raised in eccentric, rain-soaked Portland, OR, a fantastically crunchy city where anything can grow and grow well, especially people. Portland is a city that hasn't forgotten about its best feature, its residents, and so the quality of life is fantastic. I grew up braving the frigid ocean at Cannon Beach (to which I'm now immune), snowboarding on Mount Hood, camping in Fort Stevens Park, and spending countless hours in ballet and piano studios. I do, however, love the cold, snowy winters on the East Coast-- Portland's seven months of straight rain can really get to you.
What was high school like? What were your favorite activities?
Much of why I appreciate Hamilton so much comes from my high school experience. Grant is a wonderful public school whose potential was constantly hindered with the usual inner-city public school banes of overcrowding, low test scores and budget cuts. I learned to value personal responsibility at an early age; to be successful at Grant, I could only rely on myself. I received a phenomenal education where I developed a passion for foreign languages and history that I have continued to foster here at Hamilton.

Who inspired you?
Much of my inspiration came from my mother, a single parent whose work ethic and encouragement contributed overwhelmingly to my accomplishments today. Throughout my adolescence, my mother sacrificed everything to ensure that my elder brother and I were successful, both in school and in life. She has been my greatest support since I came out as gay and is the reason I'm proud to call myself a feminist. From her I learned to value education and to be diligent and independent. And perhaps most importantly, I'm proud to be a young man who can scrub any floor, iron any garment, cook a good meal, and keep myself organized and happy.

How did you discover Hamilton?
My last two years of high school I worked as a teacher's aide at a local preschool. My coworker, Katie McGuire '11, and I quickly became good friends and naturally we discussed college applications and whatnot. We learned we were applying to similar schools 3000 miles away, and eventually she told me she'd chosen Hamilton. After visiting her on campus my senior year, I fell in love with the College. I immediately switched my application to Early Decision-- the best decision I've made.

What are your plans after Hamilton? Where do you want to live?
From my work as a Phonathon caller and intern in the Annual Fund I've developed a keen interest in marketing and development. I hope to work in either commercial or non-profit development after Hamilton, and eventually I intend on going to graduate school for international marketing. I will live anywhere, from Chicago to Charleston to Chelyabinsk but I hope to settle down in a smaller town in the Northeast eventually.
What advice or perspective would you share with alumni?
What I value most about the College is its phenomenal sense of community. I came to Hamilton from a considerably different background than most students, not knowing what to expect. What I found here is a place where everyone is valued based on individual merit and is challenged to improve his or herself on an individual level, in an environment that fosters a respect for the greater community. I have gained a world of confidence from my time at Hamilton--I have learned who I am, what I can do, and how to express myself. As a student who originally did not know if college would be a possibility, I can never overstate the gratitude I have for those who made my education possible.

GOLD Scholars is an initiative supported by the Annual Fund, which has always provided direct support for the College's most important current priorities, especially scholarship aid. Since 2006 gifts from the GOLD Group – Graduates of the Last Decade – specifically support students on campus. With each $15,000 increment collectively contributed, the College will select a student as a GOLD Scholar.