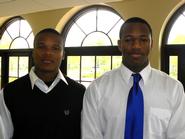 In a weakened school system that faces continual budget cuts, co-curricular field trips are usually among the first programs that schools discontinue. In Washington, D.C., this rings especially true, as an increasing number of middle schools are deciding to drop field trips from their curriculum.
This summer, Wlajimir "Jimmy" Alexis '13, Rodric "Camron" Waugh '13 and Professor of Philosophy Todd Franklin will travel to D.C. under a Levitt Research Fellowship Grant and explore the effect of field trips on middle school students. The Hamilton students will interview and survey teachers, gaining a personal perspective for their project, "The Impact of Co-Curricular Field Trips on Middle Schoolers in the District of Columbia."
Washington, D.C., is home to one of the nation's most troubled school systems, and an increasing lack of funding only serves to worsen the situation. For many middle schools, this means that co-curricular field trips are cut from the school's agenda. At first glance, field trips may appear to be a mere accessory to a school's program. But Waugh and Alexis argue that these trips stimulate and supplement learning in a very substantial way. As Waugh, a world politics major, puts it, "not everything can be taught in a classroom," and when legislation cuts funding teachers resort to second-best options such as virtual field trips.
During virtual field trips, teachers access online databases from museums and other sites to show students at school. While such measures may be a step in the right direction, Waugh and Alexis believe that losing field trips may have a negative effect on learning. By visiting a city with a notoriously problematic school system, the two expect to find a rich source of teachers with experience on their topic.
Waugh and Alexis will focus specifically on middle schools. Alexis, an economics major with a computer science minor, reveals that they believe middle school to be a vital turning point for children. Children in middle school are no longer very young, but they are still more impressionable than high schoolers. In other words, a child's middle school experience can determine whether he or she will want to go to college later on.
The student researchers will sit in on classes, speak to teachers, conduct their own surveys, and draw from published statistics in order to test the correlation between several variables relating field trips and student success. They hope to employ a firsthand, intimate viewpoint in order to gain an understanding of how field trips are important. Waugh looks forward to seeing how their research will play out and the conclusion that they will draw. Alexis, on the other hand, is most excited about interacting with teachers and getting their individual input. The pair also intends to visit the progressive KIPP and SEED Schools in Washington, D.C., in the hopes of observing how these schools offer unique opportunities to the city's children.
In his free time, Waugh enjoys playing football, both recreationally and on Hamilton's varsity team. Alexis's hobbies include running, and he is a member of the Hamilton track team. To them, the summer represents an opportunity to delve deeply into a subject that they care deeply about and to gain personal relationships with the subjects of their study.
Wlajimir Alexis is a graduate of Wolfson High School in Jacksonville, Fla., and Rodric Waugh is a graduate of Holland Hall School in Tulsa, Okla.