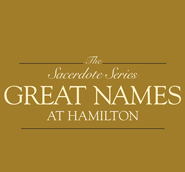 All tickets for the Sacerdote Great Names Series event featuring Derek Jeter on Wednesday, Dec. 10, have been distributed.
"The response for this program has exceeded anything we've experienced in the past," said Associate Dean of Students Lisa Magnarelli. "We're pleased to host such a popular figure."
No one will be admitted to the venue without a ticket, Magnarelli said, but the event will be streamed live on the Hamilton College campus to the Kennedy Auditorium in the Taylor Science Center and the Bradford Auditorium in the Kirner-Johnson Building. No tickets will be required for the livestreams, which are open to the public at no charge.
Magnarelli said 1,000 tickets were distributed to local schools and organizations traveling to campus as groups, but requests for those tickets were at least three times greater than for any previous great names event. Members of the Hamilton community, including students, alumni and staff, also requested tickets in record numbers.