Allie Pohl '07 Designs Necklace
---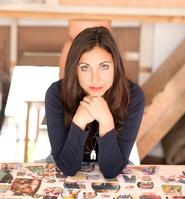 Allie Pohl '07 has designed the "Ideal Woman" necklace, a piece of jewelry she intends to protest society's move toward conformity in physical appearance and unattainable beauty as the ideal. The pendant is colored plastic—blue, purple, pink, yellow, or black—shaped like a female torso. Ironically, the shape originated as a sliced-up Barbie, a doll infamous for her impossible anatomy. Pohl says her choice of material "resonates with the idea that we are coming more plastic," a reference in part to the prevalence of plastic surgery and digital manipulation of photographs.

She describes her work as "feminist satire packaged in a post-modern wrapper" and, through it, desires to critique societal fads that are "impractical or destructive to the female form." Her message appears to resonate with women, as the "Ideal Woman" necklace has been featured in a number of magazine, including Marie Claire, Denver Magazine, Trend Hunter Magazine.

At Hamilton, Pohl played tennis and was a member of the chess club and Lambda Pi Eta. She graduated with a major in communications and a minor in studio art. She will receive her master's degree in electronic media art design from Denver University this year.