Alloy Orchestra to Accompany Silent Film Metropolis
---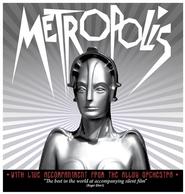 The fall F.I.L.M. (Forum for Images and Languages in Motion) series continues at Hamilton College with Metropolis on Sunday, Nov. 7, at 2 p.m., in the Bradford Auditorium in the Kirner-Johnson Building. The Alloy Orchestra will provide live accompaniment for the silent film. The screening is free and open to the public.
The Alloy Orchestra–Terry Donahue (accordion, musical saw, junk, vocals), Roger Miller (keyboards), and Ken Winokur (clarinet and junk percussion)—will play a new score with the film. Renowned critic Roger Ebert has called them "the best in the world at accompanying silent film."
Metropolis, directed by Fritz Lang in 1928 was inspired by the New York City of the 1920s. Taking place in the 21st century, the then-sci-fi film is set in a gigantic metropolis controlled by an authoritarian industrialist and his collaborators. His son decides to rebel and live with the workers in the subterranean world below the city. What follows is a conflict between the rebels below and the industrialist above. The film includes 25 minutes of "lost" footage, found in 2008, that had not been seen since the film's debut in Berlin.