Alon Hillel-Tuch '07 Discusses JOBS Act
---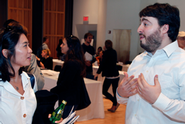 Late last year, Alon-Hillel-Tuch '07, founder and CFO of the crowdfunding platform RocketHub, was interviewed by Forbes in an article titled "CrowdFund Investing: Emphasis Turning to Implementation and Entrepreneurs" (Nov. 2012) and by the New York Times in an article titled "RocketHub Ponders Its Future in Crowdfunding" (Dec. 2012).
The two articles address questions that arose due to the Jumpstart Our Business Startups (JOBS) Act's legalization of CrowdFundInvesting (CFI) this year and RocketHub's plans for the future. As the New York Times explains, the JOBS Act "creates an exception to the general rule that before a company can sell its stock to the public, it must register with the S.E.C., a process of disclosure requiring elaborate and expensive assistance from lawyers, accountants and investment bankers that most small companies cannot afford."
While considering the Act, the Securities and Exchange Commission (SEC) asked RocketHub and a few other platforms for information regarding their operations and campaigns in order to gather more information about equity crowdfunding, and RocketHub agreed. Hillel-Tuch said of the Act: "The JOBS Act is the next step towards democratizing fund raising. I adamantly believe social funding is going to dominate the online space for the next five years."
Alon has co-authored two whitepapers, entitled Regulation of Crowdfunding: Building On the Jumpstart Our Business Startups Act, and Implementation Of Crowdfunding: Building On Title III Of The Jobs Act, which have both received critical acclaim. In Forbes, Hillel-Tuch explains the second whitepaper about the JOBS Act which RocketHub submitted to Congress, SEC, and the Financial Industry Regulatory Authority (FINRA) answers the questions: "What is RocketHub's role in this process currently," " What about the remaining concerns about fraud," " Does the new whitepaper cover this," and "What do you see as the biggest remaining issue?"
RocketHub was founded in 2009 by Alon Hillel-Tuch, Brian Meece, Jed Cohen, and Vladimir Vukicevic as a crowdfunding platform on which users, including scientists, entertainers, game designers, writers, and others could share their fundraising campaigns in order to raise money and awareness for their projects.
At Hamilton, Hillel-Tuch majored in economics and minored in Chinese. He was a member of Tau Kappa Epsilon. After graduation, he went on to earn his Masters of Science in conflict resolution, with a focus on dynamical systems theory, from Columbia University.