Alumni Entrepreneurs Share Advice With Students
---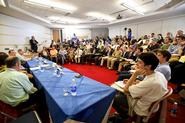 Encouraging students to live and work with passion has been a theme of the Career Center this year. The five panelists of the Careers in Entrepreneurship event on Thursday, Sept. 22, epitomize careers based on a balance of passion and smart decision-making. These alumni shared their experiences and advice in a panel discussion sponsored by the Career Center.
The panel discussion featured Hamilton graduates Marc Randolph '81, Gretchen Morrison Grad '85, Robert Rigg '99, Andrew McKee '86, and Daniel Nye '88.

"It is absolutely critical for life satisfaction that you be passionate about whatever you're doing, whether it's entrepreneurial or not," says Gretchen Grad. Grad, the only panel member in the nonprofit sector, became an entrepreneur based on one major inspiration. The events of September 11th, 2001, instilled in her a desire to do something to help the world. She founded Hands of Peace, an organization dedicated to bringing Israeli, Palestinian, and American students together for a dialogue-based summer program in Illinois. Grad's passion allowed her to develop a program that has remained strong for nine years and graduated over 350 participants.
Other panelists have used their enthusiasm to work with many different companies. "I always gravitated toward things that I could start," says Andrew McKee, a graduate of Harvard Business School who began his entrepreneurial career by founding HEAR Music, a music retail and marketing firm later sold to Starbucks.
His interest in adventure travel led him to become CEO of Overseas Adventure Travel and then to found Vacation.com. Most recently, McKee co-founded Webster Capital, a firm providing equity financing and growth capital. He attributes the development of his leadership skills to early experience as editor of his high school newspaper and then the Hamilton Spectator.
Since the position as editor of the Spectator would have conflicted with his on-campus job, McKee had to discuss his options with the director of financial aid at the time. Ultimately, the director increased his grant to enable McKee to become editor. McKee notes that the skills he used in that conversation are the same skills he uses as an entrepreneur today, saying, "I was pitching him, almost, though I didn't realize it at the time."
Dan Nye also honed his talent for management in his extracurricular activities at Hamilton, where he ran several groups and realized that he most enjoyed the process of improving organizations. Addressing the audience from the panel, he also stressed the importance of the career-related experience he gained during time off the hill. These experiences originally led Nye to brand management at Procter & Gamble, but he developed strong interest in technology during his time at Harvard Business School. His work at Intuit and Advent Software, where he says he built a strong foundation of experience, prepared him for the position of CEO of LinkedIn during its most significant period of growth.
Nye considers his progression through the levels of such companies, from learning the ropes to running the business, to be an important component of his success. "It's important to go work for high-quality people," Nye says, "But then go capitalize on it."
Sometimes the idea itself is all you need to. While working at Nike, Rob Rigg founded The Walking Golfer, a website that addresses the benefits of walking while playing golf. The website includes ratings for the walkability of specific golf courses, a section Rigg ultimately wants to provide a rating for every golf course in the United States and Canada. The site also features extended reviews of specific courses and other articles relevant to walking while golfing. The Walking Golfer originally presented product reviews for golfers as well, but Rigg has since founded TRUE Linkswear.
TRUE Linkswear creates minimalist golf shoes meant to work naturally with golfers' bodies. TRUE Linkswear shoes are now available at every major golf retailer in the United States. As an entrepreneur, Rigg says, "I'm still on my first go-round," but a truly good idea demands quick action.

Marc Randolph believes that this drive to make ideas into reality is necessary for any entrepreneur. "It's a propensity to action," he says, which is the essential quality of entrepreneurs. "You're disposed to do something, not to sit there and think about it." This attitude has helped Randolph through two phases of his career. The first phase, in which he worked on the founding teams of start-ups and began a few of his own, culminated in the foundation of Netflix. He served as founding CEO of Netflix from 1996 to 2004. His current work as an investor has allowed him to share his talent and resources with hundreds of young companies.
To young entrepreneurs in the audience, he says that the main thing holding people back is their fear of simply beginning, and making decisions when the situation is unclear. "Do something crappy, and get it out there," he urges. "Netflix—it's nothing at all like we envisioned it." With start-ups, he says, people have to set the company in motion, spot the problem areas, and fix them.
The panelists encourage other entrepreneurs not to be afraid of failure. McKee declares that failed attempts can provide insight and wisdom for the future. "When I'm considering hiring people or investing in a company, I always look at the life experiences of the people," he says, and their failures can ultimately make them better businesspeople. Rigg also emphasized the benefits such experiences can have for the future. The only attitude you can have about failure, he says, is to think, "And if it doesn't work, fine, I'll go get another corporate job, and I'll have this really cool resume that 99 percent of the population doesn't have because they didn't take the chance."
Grad also understands the importance of being able to recover from setbacks. In response to a question about what experiences at Hamilton most helped to develop skills for the panelists' careers, Grad responded immediately, "Rugby!" Getting tackled and having to get right back up prepared her for the world of entrepreneurship.
The panelists coupled serious advice with lighthearted energy. "I've had about 10 ideas for really awesome businesses, and I'm really glad I didn't [go through with them]," Nye said with a grin, and a light laughter from the audience turned into a roar as McKee silently slid a piece of paper and pen in Nye's direction.