Alumni Participation Challenge
---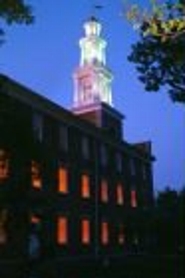 A Chance to Dine with the Chair and President
Three randomly selected alumni who make a new gift to the Annual Fund during May will be invited to have dinner with incoming chairman of the Board of Trustees A.G. Lafley '69 (chairman and CEO of Procter & Gamble) and Hamilton President Joan Stewart. Travel expenses will be paid by the College. Don't miss this opportunity to support current students and professors, earn "bonus" contributions through the Alumni Participation Challenge, and have a chance to dine with Hamilton's board chairman and president!
A group of nine trustees who believe in the power of alumni participation and the critical role alumni play in keeping Hamilton a leader in the liberal arts have underscored their belief by promising to make additional
Annual Fund gifts
. Steve Anthony '59, Amy Owens Goodfriend '82, Kevin Kennedy '70, A.G. Lafley '69, Stuart Scott '61, P'91, '06, David Solomon '84, Charlie Svenson '61, P'00, Jack Withiam '71 and Nina Carroll P'90 will provide $400,000 as successive alumni participation goals are met on the way to the final goal of 52 percent on June 30.
The Alumni Participation Challenge
, which runs throughout May and June, draws attention to annual giving, the most immediate impact alumni can make on the financial bottom line of Hamilton and its students. Annual Fund income is unrestricted, so it is available for use where it is needed most. Every year, the Annual Fund accounts for more than five percent of the College's operating budget.
Hamilton has long been among the national leaders in the percentage of alumni who give to the Annual Fund. For more than a quarter century, more than 50 percent of the alumni family has made a gift to the fund. Recently, consultants have tracked a decline in private college giving participation. Trend Analytics reported in its 2007
Index of
Higher Education Fundraising Performance
that, "Median participation rates were down 1.2 percent to 26.8 percent for private institutions." Hamilton alumni, whose loyalty and generosity exemplifies a living culture of gratitude, set the College apart from these troublesome trends.
Hamilton is also a college of opportunity, and gifts to the Annual Fund allow students who could otherwise not afford to attend receive the benefit of a Hamilton education. Fully 50 percent of students receive financial assistance, and the average aid package is $30,000. More than $27 million is budgeted for scholarship during the next academic year. The College depends on the generous support from alumni to fund its priorities and offer an exceptional educational experience.

The endowment and the Annual Fund have been referred to as "legacy funds," and provide one revenue dollar out of three needed to support the College budget. The high quality of education offered at Hamilton is an expensive "product." It costs roughly $250,000 to educate each Hamilton graduate today. Each year, the College sends into the world, in the form of the graduating class, an investment of more than $115 million. The College continues to invest in its academic and co-curricular programs, reach out to the best students and upgrade its facilities. Your continuous support of the Annual Fund helps make it all possible.

If you have made your gift, please accept the sincere and deep gratitude from all on the Hill for your support. If you have not yet make your gift, now is the time to do so. Your gift will be magnified by the generosity of the trustees who are supporting the Alumni Participation Challenge.

Jon A.L. Hysell '72,P'04
Director, Annual Giving