Alumni Review's 200 Days is Published
---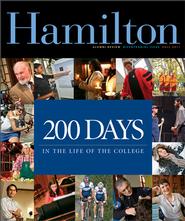 Created with the help of 44 student writers and photographers working with 15 alumni mentors and editors, among others, the special "200 Days" issue of the Hamilton Alumni Review marks the College's Bicentennial by documenting 200 days on (and occasionally off) the Hill.
It has arrived on campus and is available at several locations, including Beinecke near the Mail Center, Sadove Student Center, Burke Library, the Taylor Science Center atrium, Bristol Center and Opus 1.
Steve Wulf '72, P'12, former executive editor of ESPN The Magazine, provided the initial concept for "200 Days" and served as guest editor. In features and photos, the issue traces the 2010-11 academic year, from the arrival of first-year students for pre-orientation through Commencement.
It's full of great student writing and compelling photos -- a composite portrait of the vibrant academic, social, athletic and cultural life of Hamilton in its 200th year.