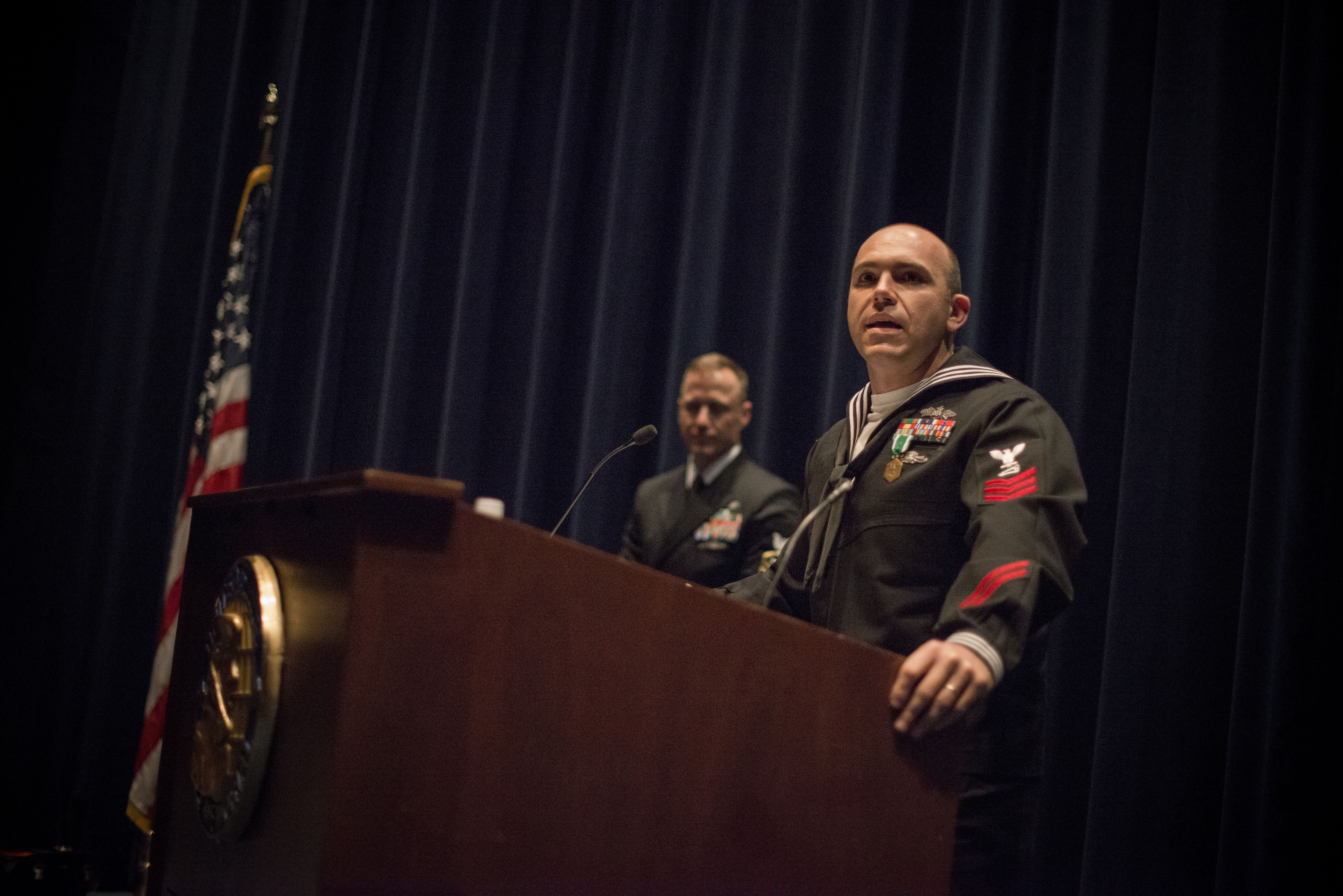 Hamilton alumnus Steven Butterhof '05 was named the 2015 Navy Reserve Sailor of the Year (RSOY) during a ceremony at the United States Navy Memorial in Washington, D.C., on April 8. He was chosen from 36,000 sailors. Fewer than 150 individuals have received this honor since its inception in 1972.
Butterhof, who works in the Washington, D.C. office of ABS Group as a program manager, is an Equipment Operator 1st Class (SCW/EXW) assigned to Navy Mobile Construction Battalion 27. During her announcement of Butterhof's selection, Chief of Navy Reserve Vice Adm. Robin R. Braun praised all five finalists, according to a Navy release. "These five sailors represent the best of the best. They represent all the hardworking men and women out there who support the Navy Reserve in addition to their civilian jobs. We are tremendously proud of the work they do for the U.S. Navy and our nation."
"This is a tremendous distinction," said Butterhof. "… I'm so humbled with this honor." While at Hamilton, the computer science and math double major was captain of the football and indoor and outdoor track teams. In his senior year he finished as the Liberty League and NESCAC champion in the shot put. He also earned all New York State Collegiate Track Conference (NYSCTC) honors with a second-place finish in the shot put for outdoor track. In his work for ABS Group, a Houston-based global consulting firm, Butterhof supports various Department of Homeland Security programs.

As reported by the Navy, Reserve Force Master Chief C.J. Mitchell expressed his appreciation for the selectees' contributions outside the military. "This year's group of Navy Reserve Sailor of the Year finalists was also exemplary in their professional civilian jobs as well as being advocates and volunteers in their communities. Again, five finalists representing nine thousand first classes - this truly was the cream of the crop and the most challenging and tightest competition I've ever been involved with," said Mitchell. Butterhof recently returned home from a mobilization in Djibouti.
Each sailor received a Navy and Marine Corps Commendation Medal during the ceremony. In May, Butterhof will return to Washington for the Chief of Naval Operations Sailor of the Year week hosted by the Master Chief Petty Officer of the Navy where he will be meritoriously advanced to Chief Petty Officer.
Former Chief of Naval Operations (CNO) retired Adm. Elmo Zumwalt and former MCPON Jack Whittet initiated the Sailor of the Year program in 1972 to recognize outstanding Atlantic and Pacific Fleet sailors. The program was later expanded to honor the top Shore and Reserve Force Sailors of the Year.