Amanda Hyne '11 Named Hamilton's 32nd GOLD Scholar
---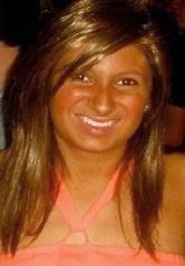 Nickname: Mandy
Hometown: Bloomfield, Connecticut
High School: Westminster School
Major: Psychology
Minor: Sociology
Campus activities: Women's Varsity Softball, Kappa Sigma Alpha, Hillel, Vice President of Psi Chi Honor Society in Psychology (Hamilton Chapter), Levitt Scholar, Food Salvage
Last Movie Seen in Theaters: How Do You Know?
Favorite Movie: A League of Their Own
Favorite Song: Time of Your Life by Green Day
Places you've lived on campus: South, North and Griffin Road
Last Book Read: The Reader by Bernhard Schlink
Favorite Book: Tuesdays With Morrie by Mitch Albom
Hobbies/Interests: Sports, running, shopping, hibachi, reading, dancing, volunteering, movies, dogs, being with friends and family
Favorite Place on Campus: Definitely the fitness center. When I went on my recruiting visits during my senior year of high school, The Blood Fitness Center was one of the very best athletic facilities that I saw. It is complete with the best machines and equipment.
Favorite Campus Dining Location: Commons. As my softball team can attest to, I love the fact that there are so many options and we can go up as many times as we want!
Fondest Hamilton Memory To-Date: I would have to say the Passion Pit concert on Class and Charter Day last year (spring 2010). It was so much fun and I love their music! The band put on quite a performance and it was great because so many students were there for the event.
Favorite Quote: "They can because they think they can" - Virgil
Where did you grow up and what was life like there?
I grew up in the small town of Simsbury, Connecticut. Since I grew up playing sports in the town leagues, my family became close with many community members. What's really unique about Simsbury is that it is the home of the International Skating Center of Connecticut, meaning that Olympic skaters from all over the world would come and train there. My mom and I would go skating there all the time and watch the figure skaters and hockey teams practice, which motivated me to start playing hockey myself. The sports in Simsbury are great because they are very competitive but also a great way to make friends and learn life skills. When I wasn't at the rink or on the baseball fields playing Little League, I was probably at the Simsbury Commons, which is a beautiful, outdoor strip mall that has a huge movie theatre, shopping and restaurants. My friends and I would love to go there and walk around. Overall, I loved growing up in such a close-knit community.

Describe your parents and/or family members?
I am extremely close to my family, which is why I am glad that my hometown is only about four hours away. Every year since I was about twelve, we run the Manchester five-mile Road Race on Thanksgiving Day, a tradition that we will continue for years to come. My parents have been very supportive throughout my entire growing up process. My dad is an investment consultant and has been my softball coach ever since I picked up a glove at age eight. He used to play college baseball, and I have adopted his number (nine) as my own, ever since I started playing. He taught me to work hard at everything I do and have a positive attitude in even the toughest of situations. My mom is a teacher's assistant at an elementary school and she primarily works with children who have Autism. I have gone to help out at her school on my vacations and she is so encouraging and inspiring with them. It is so much fun to watch her work with these kids because she has been such an amazing influence in my own life. My sister is a freshman at Dean College outside of Boston and she has an amazing voice. She was definitely blessed with the musical talent in the family, and I love to watch her perform during all of her shows. She is a great person and I'm so lucky to have her for a sister. Of course I could never forget Abbygale, our Britney Spaniel! I literally have about a hundred pictures of her on my phone and wish I could take her to school with me. I don't know what I would do without my family, for they have supported me in everything I do.

What was high school like? What were your favorite activities? Who inspired you?
High school was a great experience for me. I was a day student at Westminster School, a private boarding school in Simsbury. I was lucky because I was able to make friends from all over the country and the world. I loved Westminster because it fulfilled my desires for a strong and challenging academic program as well as competitive athletic opportunities. During my time there, I was on three varsity sports teams – cross-country, ice hockey and softball, and I loved competing in the Founder's League. During my junior my softball team won the Founder's League Championship for the first time in school history for any sport; we then won the League again my senior year! Thus, I'd have to say that my spring seasons were always my favorite. I even recognize players on other teams we compete against at Hamilton because I have either played with or against them at Westminster. Private school was also great because we were able to build close relationships with the faculty and staff. I always felt comfortable meeting with teachers if I had questions, and often times they would invite us to their on campus apartments for meals and study group sessions. However, the person who inspired me most was my advisor and softball coach, Mitch Overbye. He had complete confidence in me as a student-athlete and always was there for me 100%, and was right there with me through the recruiting process. He emphasized the importance of positivity, confidence, and hard work, and the life lessons that he taught us are crucial for a successful and happy future. I was extremely lucky to have the experience I did at Westminster.
How did you discover Hamilton?
I discovered Hamilton when my college counselor put together a list of schools that I should consider looking at. I was impressed with the academic reputation of the school and particularly liked the open curriculum. To me that aspect really stood out as a picture of a true liberal arts education. I sent a skills video to the coach, and soon after was invited up for a visit. My dad and I were able to eat lunch in Commons with the team and not only were we sold on the amazing food, but the girls were extremely welcoming and friendly. I decided to apply Early Decision II and I am very happy with that choice today.

What Hamilton voices have inspired you? Why?
Throughout my time on the Hill I have been blessed with amazing resources and support. My psychology professors Greg Pierce and Penny Yee have been extremely inspiring, for their passion for and dedication to the field of psychology has encouraged me to work hard and do my best in whatever I do. They have been extremely supportive and always been there with a kind word of encouragement. They have taught me to keep life in perspective and keep a healthy balance among work, stress and time for myself. Additionally, my coaches Tracey Coffman and Bill Spicer have inspired me with their passion for the game of softball and dedication to our team. I know I can always count on them to be there for us, and our respect for them has increased our motivation to work even harder. When I obsess about statistics and become too hard on myself, Coach Coffman constantly reminds me to have fun and enjoy the game, because that is when good things will happen. Through the support of these amazing people, I have done more than I even thought I could have at Hamilton.

Have you volunteered as a student? If yes, what did you find most rewarding about the experience?
Volunteering at Hamilton has been a very important aspect of my experience. Last spring, I often went to the Spring Farm Cares animal sanctuary to spend time with the animals and help make sure the areas were organized and clean. When my friends I go, we sometimes stay for hours because not only is it a good cause, but we have so much fun relieving stress with dogs and cats! I have also participated in Food Salvage, a program started by members of the men's lacrosse team, in which we save left over food from the dining halls and send it to local shelters in the community. I love this program because so much food is always left over, and the fact that we can donate to a good cause instead of wasting it is great. I also have spent a good amount of time volunteering at nursing homes around the area. To see the appreciation and happiness on the residents' faces when we visit and engage in activities with them is priceless, and to me, has been the most rewarding part of my volunteering experience.

What are your plans after Hamilton? Where do you want to live?
I am currently applying to graduate programs in social work, and I would love to live in New York City for at least a few years after Hamilton. My goal is to work with children and families struggling with various psychological issues and provide counseling and therapeutic services to those in need. I love the idea of the social work profession because I would be able to apply the concepts and theories that I have learned in my courses to real life situations, as well as have the opportunity to make a positive difference in the lives of others.

GOLD Scholars is an initiative supported by the Annual Fund, which has always provided direct support for the College's most important current priorities, especially scholarship aid. Since 2006 gifts from the GOLD Group – Graduates of the Last Decade – specifically support students on campus. With each $15,000 increment collectively contributed, the College will select a student as a GOLD Scholar.