Ambassador William Luers '51 Leads Discussion on U.S.-Iran Relations
---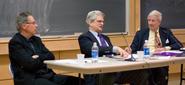 On April 26, Ambassador William Luers '51, Linowitz Professor and keynote speaker, joined Ambassador Edward Walker Jr. '62 and Professor Alan Cafruny for a discussion on U.S.-Iranian relations. Ambassador Luers provided an alternative view on U.S. relations with Iran that centered on more constructive communication rather than the accusatory and uncompromising policy currently employed.

Luers began his lecture with the "C.C.s" that defined his education and career, starting with his job at Coca-Cola. Luers then progressed to his double-major of chemistry and calculus, which led to the "curiosity and confidence" that a Hamilton education had left him with. His career led him to "conflict and Cold War," and finally to his current challenge, "cooperation or calamity."

Cooperation or calamity is a strong statement, and Luers backed up this claim with four propositions describing how he arrived at that point. The first of these is the challenge that Iran presents to the United States, especially in an area that is of so much interest to the U.S. The second is the realization that U.S. policy has not been successful, and Iran continues to ignore the "red lines" that the States sets up.

Third, the use of military force is not advisable because of how it would "change the nature of the Iranian threat and damage U.S. interests," namely in terms of costliness and the potential Iranian response. Finally, Luers believes in an approach to terrorism in Iran that would treat each group separately and stop using armed forces.

Luers had been working on U.S.-Iran relations for years, and spoke of how the United States frequently overlooks those Iranian interests that line up with the States' interests. For example, in 2001 former Iranian President Khatami made it clear to the General Assembly that "Osama Bin Laden does not represent Islam."

This statement, which could have led to a breakthrough in U.S.-Iranian relations, only made the fourth page of The New York Times, where it occupied a small space. Similarly, the U.S. government barely took notice of this announcement. This pattern of the United States refusing to acknowledge any mutual points of interest with Iran is nothing new; in fact, the U. S. could potentially bridge the gap with Iran on at least five different points: Iraq, Afghanistan, drug trafficking, terrorism (specifically Al-Qeuda and the Taliban), and the nuclear program.

While negotiations on these points can help ensure the safety of Americans and speed along United States goals in the Afghanistan and Iraq, in practice they would be difficult to set in motion. President Obama had tried to begin a dialogue with Iran, but these efforts were mostly unsuccessful. The problem lies in the differences between what the U.S. and Iran consider compromise. While the U.S. believes that any compromise is giving up too much, Iranians believe that efforts such as President Obama's amount to practically nothing. In addition, in the U.S., policies that eschew violence tend to be thought of as "wimpy" and so have little chance of becoming implemented.

The issue of a nuclear program in Iran proved to be a critical point in the discussion. While Luers argued that the United States should focus on more than just the nuclear program, which tends to be the center of any political discussion on Iran, discussant Ned Walker emphasized the likelihood that such a program will indeed be implemented and the threat this could pose. According to Walker, no U.S. policy could deter Iran from the path it is currently on with regards to a nuclear program. In contrast, Luers asserted that current U.S. policy actually encourages a nuclear program, as the Iranians feel that they have no choice other than to develop one.

Meanwhile, Walker spoke of the growing influence of the Revolutionary Guard and the danger this could pose. The conversation centered on how big a factor the nuclear program should be when dealing with Iran.

Ambassador Luers' proposals for U.S.-Iran relations have been unpopular within past administrations as evidenced by the government's uncompromising stance. Luers noted that Obama had initially pursued a dialogue with Iran but gave up on this initiative too soon.

At a time when relations between the two countries could end in "cooperation or calamity" according to Luers, his ideas may offer a practical and potentially more beneficial solution for both nations. Luers offers an ideology that he believes could help both the U.S. and Iran move forward into a more peaceful and productive future.