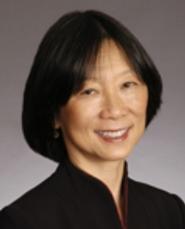 Pauline Yu, president of the American Council of Learned Societies (ACLS), will give a lecture titled "Narratives of the Humanities" on Thursday, April 9, at 4:10 p.m., in the Taylor Science Center's Kennedy Auditorium. The lecture is free and open to the public and sponsored by Hamilton's Humanities Forum.
Yu became president of the ACLS in July 2003, having served as dean of humanities in the College of Letters and Science at the University of California, Los Angeles and professor of East Asian languages and cultures from 1994-2003. Prior to that appointment, she was founding chair of the Department of East Asian Languages and Literature at the University of California, Irvine and on the faculty of Columbia University and the University of Minnesota.
Yu received her bachelor's degree in history and literature from Harvard University and her master's and Ph.D. in comparative literature from Stanford University. She is the author or editor of five books and dozens of articles on classical Chinese poetry, literary theory, comparative poetics and issues in the humanities and has received fellowships from the Guggenheim Foundation, the American Council of Learned Societies, and the National Endowment for the Humanities. She was awarded the William Riley Parker Prize for best PMLA article of 2007.
A fellow of the American Academy of Arts and Sciences and an elected member of the American Philosophical Society and Committee of 100, she is on the Academy's national Commission on the Humanities and Social Sciences and a member of its board. She is a trustee of the American Academy in Berlin, the Asian Cultural Council, and the National Humanities Center.
Founded in 1919, ACLS is a private, nonprofit federation of 72 national scholarly organizations and the preeminent representative of American scholarship in the humanities and related social sciences. Advancing scholarship by awarding fellowships and strengthening relations among learned societies is central to its work. Other activities include support for scholarly conferences, reference works, and scholarly communication innovations.