Amina Sibtain '11 is Named Hamilton's 25th GOLD Scholar
---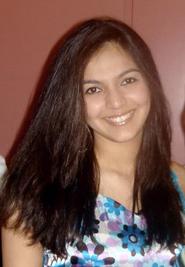 High School: Lahore Grammar School DHA, Lahore, Pakistan
Major: Economics
Minor: Creative Writing
Campus Activities: Economics peer tutor, tour guide, Spectator news writer, HAVOC
Last Movie Seen in Theaters: He's Just Not that Into You
Favorite Movie: Notting Hill (Hugh Grant makes me happy)
Favorite Place You've Lived on Campus: Dunham 3rd floor. I loved my hallway. We became one big happy family.
Favorite Books: Too many to mention, but I loved Roots by Alex Haley and Kartography by Hamilton's own Kamila Shamsie '94
Hobbies/Interests: Socializing, reading, writing and Twister. Music makes me happy.
Favorite Places on Campus: Commons dining hall and the new KJ Commons
Fondest Hamilton Memory: There are just too many to tell.
Quote: "Everything happens for a reason."
Thanks to the generous support of young alumni, Hamilton is pleased to name Amina Sibtain '11 of Lahore, Pakistan, as its 25th GOLD Scholar. Amina recently sat down to reflect on her Hamilton experience and here's what she shared.
Tell us about your family
My family and friends mean the world to me. My father works for the government of Pakistan and is one of the most honest men I know. If I can grow up to be like him one day I would consider myself successful in life. My mom is one of the strongest people I know. Whenever I am going through something difficult she is the one I look up to for strength. My parents have always been there for me in every way possible. They have sacrificed so much to get me where I am today.
My sisters, Momina and Zara, are two of my best friends in this world. We fight a lot, but at the end of the day we are there for each other for everything. I must add that we are probably the loudest group of people you will ever meet. We do not know the meaning of the word "whisper." Another addition to my family is my best friend Fatima. She is my third sister! I am so lucky to have such a strong support system to fall back on. I could not ask for more.
How did you discover Hamilton?
It's safe to assume that I did not take part in any college tours when researching colleges. Summer of my junior year I went on the US News & World Report Web site and looked through every liberal arts school I could find. Hamilton appealed to me because of its size and its Creative Writing and Economics programs. I spoke to my advisor about Hamilton and she advised me to apply. Good thing I did because this place is like home to me now.
What are the defining elements of your time on the Hill?
My friends play a big role in making the College feel like home. They have been there for me through everything. I have had some of the most memorable moments of my life with them and cannot imagine how I survived without them. I owe my professors at Hamilton so much; they make me challenge myself and try things that are outside my comfort zone and for that I am so thankful to them. For me, it's not the momentous occasions that define my time on the Hill, but the small everyday experiences that make Hamilton so special to me.
What are your plans after Hamilton?
I do not know what the future holds for me but at the moment I have two things in mind. I want to start my own NGO in Lahore, and I want Pakistan to benefit from the education that I received at Hamilton. The city has given so much to me and it's time I give something back. I plan on starting a shelter for homeless people in Lahore soon after graduating from Hamilton. Other than that I want to go for my doctorate degree in economics. Economics is my passion, and while I know that it will be a challenge I would relish the opportunity.
What advice or perspective would you share with alumni?
I would like to ask the alumni to visit Hamilton and remember all the amazing times that they spent here. Alumni should feel happy and proud that they have the chance to ensure someone else gets to experience the good life up on the Hill. It is not the amount that matters but the simple gesture of giving. It means a lot to the students. Thank you.
GOLD Scholars
is an initiative supported by the Annual Fund, which has always provided direct support for the College's most important current priorities, especially scholarship aid. Since 2006 gifts from the GOLD Group – Graduates of the Last Decade – specifically support students on campus. With each $15,000 increment collectively contributed, the College will select a student as a GOLD Scholar for 2009-10.