COOP Senior Fellows Manage Philanthropic Events On- and Off-Campus
---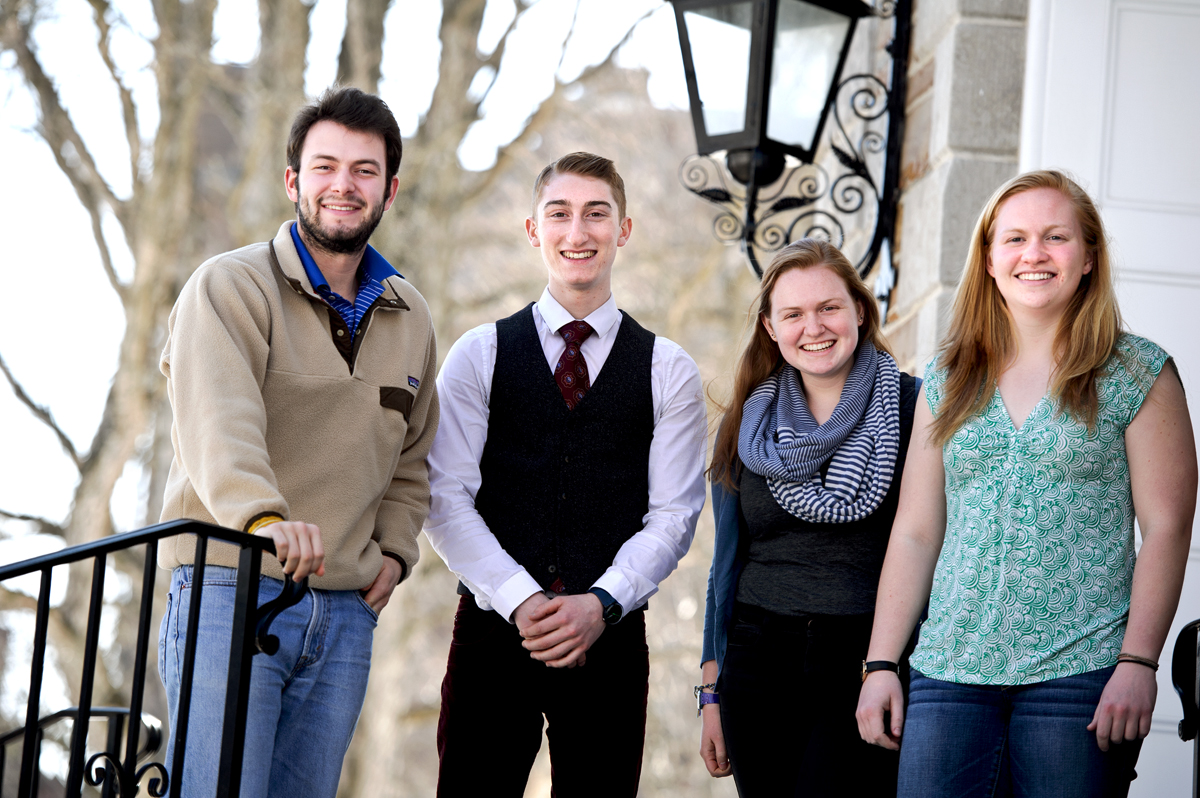 Look at campus e-mail on any given day during Hamilton's academic year and chances are there's a service opportunity seeking volunteers. From Martin Luther King Jr. Service Day to Alternative Spring Break, athletes painting a veteran's home to students collecting food at Utica's St. Patrick's Day parade, there is no shortage of chances to help out with local non-profit organizations.
But how do these numerous philanthropic events come about? The answer is the Community Outreach and Opportunities Program (COOP) Senior Fellows – Danielle Lashley, Ramya Ramnath and Amy Soenksen. They coordinate volunteer requests with local non-profits, plan events and organize volunteers.
Each has specific duties within the COOP. Lashley is the one-time service event coordinator, Soenksen serves as student organization liaison, and Ramnath holds the position of Alternative Spring Break director. These seniors, working with Amy James, COOP director, make time in their demanding schedules to fulfill their responsibilities in planning and running community-based philanthropic events on- and off-campus.
Lashley, a studio art major and Honor Court representative, has a long history in philanthropy. She earned her Gold Award in the Girl Scouts of America and will be working with Teach for America in her home state of New Jersey next year. Lashley is particularly interested in the behind-the- scenes aspects of volunteering. While she understands and appreciates the importance of helping others, Lashley admits that she is better at the logistical side of service events.
In 2010 she interned with the Susan G. Komen Foundation where she gained experience writing grants and setting up long-term constituents. She applies this to her responsibilities at the COOP by contacting and maintaining relationships with local organizations in order to coordinate events like the Martin Luther King Jr. Service Day.
Luckily, for these events volunteers are in no short supply on the Hill, largely due to the efforts of Amy Soenksen. Soenksen, who became a COOP Service Intern (CSI) shortly after entering Hamilton, serves as the link between Greek life, athletic organizations and the COOP. She enjoys working with others and has used her advanced interpersonal skills to help build lasting partnerships between on-campus groups and off-campus organizations. Soenksen is particularly happy with the ongoing connection that she helped set up between PBX and the Emmaus House, a transitional housing organization in nearby Utica, N.Y.
Soenksen is willing to work long hours and do lackluster tasks when there's a cause about which she is passionate. She said to her, philanthropy is a self-motivating enterprise because to do services for others, you have to care about your work. Acknowledging that she performs best when she is helping others, Soenksen's eventual goal is to have a job in government relations, which would allow her to channel her passion for government advocacy.
Ramnath, on the other hand, doesn't plan on obtaining a job in service, although she does see herself continuing to volunteer. A psychology major, she believes that everyone has a couple of hours a week that they could spend helping others. Ramnath enjoys her position as ASB director because her planning affects a large number of people and students get a lot out of their experiences. Her interest in education -- her minor -- comes from her appreciation of the schooling she has gotten and wants to help give that to others.
On the Hill, Ramnath participates in various dance groups and works as a teaching assistant in the Psychology Department as well as in Hindi, her first language. Although very involved on campus, Ramnath seldom feels like she has taken on too much. She commented that she "really enjoys everything I do, so it never really feels like work."
Despite being heavily involved in student organizations, community service, and, of course, being full-time students, the COOP Senior Fellows are not overwhelmed by their responsibilities. Each delegates their time and obligations in different ways but agree that the secret to managing a busy schedule is to find a personal passion.
For Lashley, it's the enjoyment of organization and planning, Soenksen finds pleasure in doing what she can to help others and Ramnath wants to share the benefits of her education with those less fortunate. Avid philanthropists, strong students and active community members, the COOP Senior Fellows are role models not only for the Hamilton community but also for the community at large. Despite being interested in a variety of aspects related to service, the three would agree that whether it's organizing, volunteering, or the plethora of jobs in between, everyone can find a way to give back.