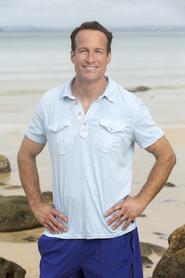 Andrew Savage '85 will be competing this fall for the second time on the hit reality show Survivor. Savage first appeared on Survivor 12 years ago on season 7, Survivor: Pearl Islands. This season, Survivor: Cambodia Second Chance is the 31st season of the show. All 20 contestants have previously competed on the show but did not win and were selected by public vote out of a pool of 32 candidates. The season premieres with a special 90 minute episode on September 23rd, 2015 at 8pmET/PT on CBS.

Savage was a strong competitor and fan favorite during Survivor: Pearl Islands and was the leader of his tribe. However, the Outcast Twist (arguably the most controversial twist in the history of Survivor where the first 6 voted out returned to the game) resulted in his demise and he was the 9th one voted out of 16. This time, Savage said that he is "physically and mentally fitter than [he] has ever been, and [he] is ready to do whatever it takes to be the last one standing". Savage admits that the Outcast Twist has haunted him for 12 years and that he still isn't over it, which is why he has a burning desire to return to the game that he loves. Savage's experience in the Pearl Islands combined with his competitive spirit and mental and physical toughness will hopefully give him an advantage in Cambodia. Savage is currently a Vice President, Deputy General Counsel for Yahoo in Northern California. He has worked for Yahoo for the past 11 & 1/2 years.

During his time at Hamilton, Savage played Varsity Football and studied abroad at the University College Galway, Ireland during his junior year. After graduating with a bachelor's degree in history from Hamilton, Savage attended the University of Cincinnati College of Law where he received his Juris Doctorate. He was a partner in a large Chicago law firm where he worked as an information technology attorney before moving to California to work for Yahoo. Savage has been married to his wife Stephanie for 20 years and has 2 daughters, MacKenzie age 17 and Skyleur age 15. They live in San Jose, California.