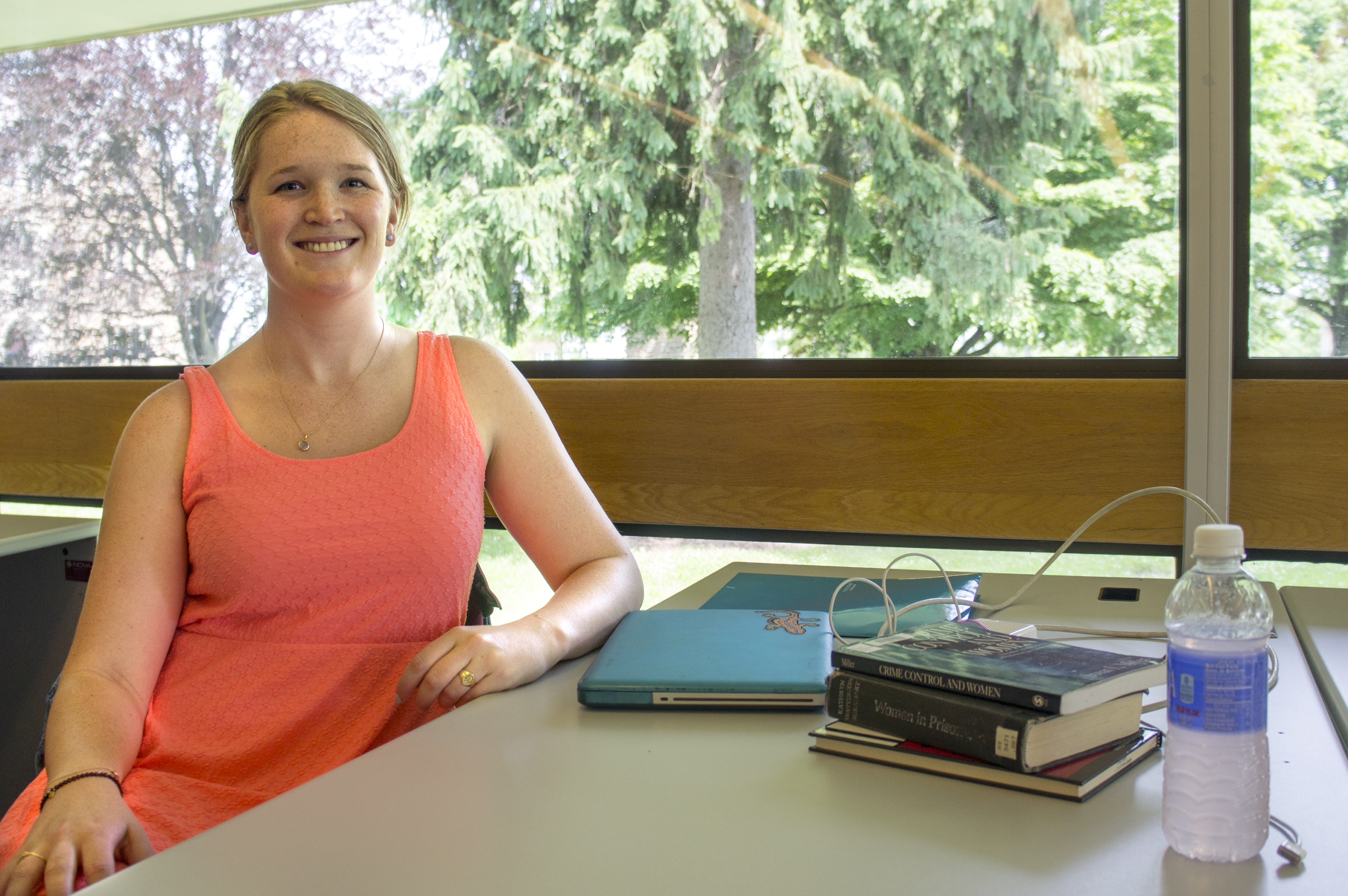 This past February, Hamilton welcomed actress, writer, producer, and transgender advocate, Laverne Cox, as the keynote speaker of the NY6 Spectrum Conference. Cox portrays the incarcerated Sophia Burset on the critically acclaimed television show Orange is the New Black, which follows the lives of inmates in a women's federal prison.
Although the stories portrayed on screen may seem fabricated, they are based on the memoir of Piper Kerman, a former female convict. Annie Lindahl '15, a Levitt Summer Research Fellow and sociology major, is exploring "Incarcerated Mothers: Social Policy for Women in Prison," in coordination with Associate Professor of Sociology Steven Ellingson.
Lindahl, who spent the past academic year studying in London, started her work on this project in October. As part of her Research Methods class, Lindahl learned some of the theoretical approaches to social research: how to examine previous literature, conduct semi-structured qualitative interviews, and perform interview analysis and coding. Lindahl also gained field experience while performing an ethnographic study by observing family interactions with mothers in the UK prison system.
Due to the fact that only 113,000 of the some 1,525,000 incarcerated offenders in the U.S. are women, their situation is often overlooked. Lindahl lamented this fact but credited Orange is the New Black with bringing the issue into the public eye. Although she appreciates that the show is raising awareness, she stressed the importance of remaining neutral; "I don't know enough about this demographic to know what is or isn't accurate in the media's portrayal," Lindahl explained.
Access into the prison system is meticulously controlled, so Lindahl will be conducting a series of interviews with social agents, including a prison chaplain, a correctional officer, and will also talk to Hamilton professors Doran Larson, Katherine Doran and Nancy Rabinowitz about their work with the prison community. Her other main resource is the criminology section of Burke Library, which has more to offer than Lindahl expected.
Although Lindahl is passionate about social justice in general, she is particularly interested in the lives of incarcerated mothers. She hopes to understand the ways in which this population might experience stigmatization, shaming, and social anxiety. Lindahl explained that women inmates are more likely to feel anxiety about abandoning their children than their male counterparts, as well as experience a greater stigma associated with their imprisonment.
Over the course of her research, Lindahl has noticed the trend that family distress issues are predominantly caused by social inequalities, and seeks to investigate if these issues might be the cause of family disruption, not the prison system itself.
This is evinced by the fact that the majority of incarcerated women experience family disruptions prior to sentencing. Lindahl pointed out the intersection of social issues such as domestic violence, substance abuse, poverty and the pay gap.
Lindahl would have liked to have done a full study in London, as well as the U.S., but did not have enough time; nevertheless, she is excited about compiling her findings and is considering pursuing a masters in sociology after graduation.
Annie Lindahl is a native of Chevy Chase, Md., and a graduate of the National Cathedral School for Girls in Washington, DC.