Annual Fund Hopes to Demonstrate the Power of Many
---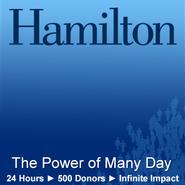 In a unique approach to soliciting college gifts, Hamilton's Associate Director of Annual Giving Paul Ryan '02 will host a 24-hour fund-raising radio broadcast marathon beginning at midnight on Friday, March 1. The Power of Many will be broadcast on Hamilton FM station WHCL 88.7, as Ryan interviews alumni around the country with the goal of generating a minimum of 500 gifts for the college.
Among the alumni guests who will participate in the marathon are:

• Sarah Rafferty '93 - Actress currently starring in USA's Suits
• Guy Hebert '89 - Former USA Olympic and NHL goalie
• Paul Lieberstein '89 - Screenwriter, actor and television producer
• Eric Kuhn '09 - Hollywood's first social media agent; United Talent Agency
• Sean Ryan'94 - Quarterback coach of the NY Giants
• Fabio Freyre '83 - Facebook vice president for Global Marketing Solutions
• Casey Gibson'09 - Member of nationally touring Band Filligar
• Dave Bugliari '01 - Motion picture talent agent; Creative Artists Agency
• Selena Coppock '02 - Comedian and author
• Nancy Thompson - Hamilton's Dean of Students
• Jon Hind '80 - Hamilton College athletic director

When asked if he was aware of any other college conducting a similar marathon broadcast, Ryan replied, "No one would be that crazy."

This is Ryan's second year hosting this marathon that raised 687 gifts in 2012. Contributions came in from Argentina, Romania, Kazakhstan, Greece, Australia, U.K. and even Burkina Faso, a country in West Africa, among other countries. Ryan noted that even in the middle of the night, alumni kept the calls coming.

The challenge website (www.hamilton.edu/pom) is continuously updated with number of donors and an evolving radio marathon schedule. Students will be making thank you calls throughout the afternoon from the radio station. Those tweeting will be using this hashtag: #HCPOM13.

"Seeing the Hamilton community come together to accomplish a magnificent feat was a real pleasure for me last year," said Ryan. "I am grateful to have been a part of this effort and look forward to this year's challenge."
Photos of last year's event can be viewed at http://www.hamilton.edu/news/story/radio-marathon-two-thirds-to-goal.