Anoop Pandey '10 Studying Geology of Egypt
---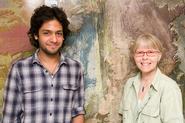 Anoop Pandey '10 is responsible for distributing the famed "golden bikes" for free student use on campus, but the part of the globe he's studying certainly isn't accessible by bike. This summer, Pandey is using remote sensing to study unusual fold structures along faults in the Western Desert of Egypt. He is working with Upson Chair for Public Discourse and Professor of Geosciences Barbara Tewksbury.

"Readily available satellite imagery makes it possible to study remote areas in the world. The fact that Egypt has little vegetation except along the Nile Valley means that the bedrock geology is well exposed and readily visible in satellite images.

Combining existing NASA satellite imagery with high resolution commercial satellite imagery now available in Google Earth allows structures as small as several meters to tens of meters across to be viewed and studied remotely. When Tewksbury looked at the imagery posted in the last several months in Google Earth for southern Egypt, she was struck by unusual structures in many places in the Western Desert."

"Nobody has really looked at these before," Tewksbury said. "Now we can see these really wonderful circular structures that are 250-500 meters long. At 1.5 meters per pixel, they start to look pretty interesting." The structures resemble giant eyes and are scattered across major East-West faults in southern Egypt.

Tewksbury contacted a colleague at the Missouri University of Science and Technology who is currently working on related structures in southern Egypt to propose reconnaissance work studying these structures and other structures to the north. Their studies will establish the general distribution of the structures.

Pandey will be contributing to the larger-scale project that Tewksbury and her colleague are planning. He is glad to be a part of her research because of the specific tools he will gain. A large component of the project involves working with GIS (Geographic Information Systems). Pandey says this summer will provide an opportunity for him to become more familiar with several of the computer programs available for image processing and analysis.

His previous research experience includes three weeks on a ship in the Florida Keys doing ocean science research. He also spent a few weeks last summer working with Tewksbury on a related project using Google Earth. Pandey knows for sure that he wants to continue studying geology and conducting remote sensing projects and will solidify his career options this year. In the mean time, he feels confident that he and the geosciences are a perfect fit.

He said that he is attracted to geology because "being outside is something I want to be able to do all of the time."