Anthony Sali '10 is Named Hamilton's Seventeenth GOLD Scholar
---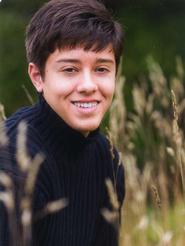 High School:
Panama Central School
Major:
Psychology
Minor: Government
Campus activities: Jazz Ensemble, Private saxophone lessons, Psychology Statistics TA, Music Library employee, Jazz Combo (2007-08), Saxophone Ensemble (2007-08)
Last movie seen in theaters: Australia
Favorite movie: A Beautiful Mind
Favorite song: The Best of What's Around by Dave Matthews Band
Where do/have you lived on campus: Root and 100 College Hill Road and currently in Kirkland
Last book read: Oryx and Crake by Margaret Atwood
Favorite book: 1984 by George Orwell
Hobbies/Interests: Playing classical and jazz saxophone, piano and acoustic guitar; golfing and skiing
Favorite place on campus: Science Center
Campus dining location: Diner
Fondest Hamilton memory to-date: Playing in the Little Pub with my jazz combo for a HAVOC fundraiser
Quote: "As in strings equally wound up, the motion of one communicates itself to the rest; so all the affections readily pass from one person to another, and beget correspondent movements in every human creature." - David Hume
Thanks to the generous support of young alumni, Hamilton is pleased to name Anthony William Sali '10 of Ashville, N.Y., as its 17th GOLD Scholar. Anthony recently sat down to reflect on his Hamilton experience so far, and here's what he shared.
Where did you grow up?
I grew up in Ashville, N.Y., a small rural town in the western part of the state near the Pennsylvania border. I enjoyed growing up in such a small community especially with the Chautauqua Institution located nearby. The institution offers a busy summer education and entertainment schedule with interesting lecturers such as Jane Goodall, Sandra Day O'Connor and Al Gore as well as entertainers like the Beach Boys and Bill Cosby. I had the opportunity to play the saxophone at many events in the local area with student bands and substitute in professional jazz bands. On one occasion I played with the locally founded band, 10,000 Maniacs.
What were your favorite activities in high school?
My high school was very small. I attended the same school from kindergarten through 12th grade and my graduating class only had 63 students! Attending a small school allowed me to participate in many different activities, however, and I enjoyed playing the alto saxophone in the band, singing in the choir and going on weekly trips with the ski club. I was also fortunate to serve as president of the Student Council and Panama's local chapter of the National Honor Society. Some of my best memories from high school are from doing the yearly musicals. Through hours of rehearsal (some more stressful than others) I formed lasting friendships. After playing several small roles as an underclassman, I progressed to playing Tom Sawyer in The Adventures of Tom Sawyer my senior year.
I was also a member of a local performing arts group called Infinity that provided a rehearsal space and equipment for local students to form bands. As a member of the Next Generation jazz quartet, I met other students who loved to play music and was able to get gigs at local venues. Infinity prepared me for my music activities at Hamilton including playing at campus parties and in the College Jazz Ensemble.
Do your first impressions of the College remain true today?
One of my first impressions of Hamilton was that the professors were very willing to go out of their way to help students and form meaningful relationships both in and out of the classroom. I remember waiting anxiously for my first class, Introductory Psychology with Professors Pierce and Yee, only to be instantly relieved once they introduced themselves along with photographs of their family and stories of their summer vacation. I have enjoyed meeting my professors' families and going to dinners at their homes. While there are many aspects of Hamilton that are memorable, the relationships I've developed with my professors are what I will most fondly remember about my time on the Hill.
Describe three defining elements of your time on the Hill.
1. Last summer, I conducted research with Professor McKee. I enjoyed working in the lab every day investigating how individuals with ADHD symptoms adjust to college. My experience outside of the lab was equally memorable. Each week one of the psychology professors hosted a barbeque and would invite the students as well as the other professors and their families. Although I wanted to attend graduate school for clinical psychology before I did summer research, my experience with Professor McKee confirmed my interest, and I am now very excited about pursuing my plans to become a clinical psychologist.
2. Becoming involved in the Music Department has allowed me to attend several master classes with professional jazz musicians including John Coltrane's son Ravi Coltrane. It is an amazing opportunity to receive tips from accomplished jazz artists. Most recently, I spent a few hours with jazz bassist Esperanza Spalding. She offered great improvisation tips and ended the day with an excellent concert.
3. Last year I played in a jazz combo. I enjoyed spending a few hours each week jamming and arranging music with other students.
What Hamilton mentors have inspired you?
I had not chosen a major when I began my time on the Hill, but my introductory psychology professors, Professors Pierce and Yee, quickly raised my interest in psychological research. They asked me to work with them in the lab, and I began helping with a project on word interference during my freshman year. Since then I have worked on other projects including my summer research with Professor McKee. I am very grateful to Professors Pierce and Yee for allowing me as a freshman to work in the lab and to Professor McKee for allowing me to continue this interest. I feel very fortunate that Hamilton's psychology department allows students to get crucial laboratory experience early in their undergraduate studies.
What advice or perspective would you share with alumni?
I would like to thank the alumni for their generous support!
GOLD Scholars is an initiative supported by the Annual Fund, which has always provided direct support for the College's most important current priorities, especially scholarship aid. Starting this year, gifts from the GOLD Group – Graduates of the Last Decade – will specifically support students on campus. With each $15,000 increment collectively contributed, the College will select a student as a GOLD Scholar for 2008-09.