AP Article Features Weir '12 and Wu Research
---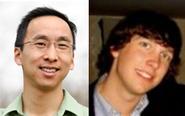 "A provocative new study suggests an almost surefire way for any GM to maximize the value of his pick: Choose a player who's already had a run-in with the law," wrote Associated Press sports columnist Jim Lidke. His assertion referred to statistics reported in a thesis written by Kendall Weir '12 under the direction of Associate Professor of Economics Stephen Wu. The article, "Undecided who to draft? Scan his rap sheet" was published on April 19 and has appeared in dozens of publications and media sites across the country.
Wu and Weir examined the playing records for the 2011-12 season of 1,200 players who were drafted by the National Football League between 2005 and 2009. They looked at where they were picked in the draft and compared how those players with "character issues" - defined as arrests, criminal charges and team suspensions - performed compared with similar players who had no arrests or suspensions.
Their study found that all players with demonstrated character concerns are picked significantly later in the draft than otherwise similar players with no history of suspensions or run-ins with the law. The researchers discovered, however, that players who had been arrested but not charged were downgraded in the draft by about 15 spots (nearly half a round), but ended up outperforming their counterparts with no arrest records who were drafted higher. They started an average of two more games than similar arrest-free players. Players arrested and charged with a crime were also downgraded 15 spots. Their performance records were not as robust as those not charged. They started only the same number of games as similar players with clean records.
"So if you're on the fence about a player and worried about his criminal record," said Wu in the Associate Press article. "The data says take a chance."
"The nature of the character issue seems to matter," says Wu. Players who had team suspensions suffered the most in the draft, downgraded by about 25 spots. Teams were correct in this downgrade in that these players performed significantly below similar players who did not have documented behavior issues. They started an average of two fewer games than those with no suspensions or criminal records in college (controlling for personal characteristics and college career statistics).