Arboretum Association Announces Spring Workshops
---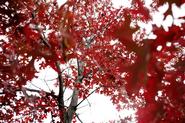 The College's Arboretum Association has announced its seven spring workshops ranging from Bonsai artistry to sustainable gardening. The programs, all of which are free and open to the public, are presented from 10 a.m. to noon in the Taylor Science Center's Kennedy Auditorium (G027) unless otherwise noted. Pre-registration is requested by calling (315) 859-4657. These events are sponsored by the College and the Arboretum Association.
The association is offering International Society of Arborist recertification credits for most of the spring programs. ISA Certified Arborists are tree professionals who, by education and experience, have obtained a standard of knowledge set forth by the industry and have proved to be competent in tree maintenance. Arborists need 30 continuing education credits every three years to maintain their certification.
The upcoming programs and the number of recertification credits available are:
January 21 • The Nursery Industry from Seedlings to Shade Trees (2 credits)
Jim Kisker of Schnichtel's Nursery in Springville, N.Y., will present on the nursery industry — from seedlings to shade trees. This will be an opportunity to learn about new varieties of trees and shrubs coming down the production line.
February 4 • Winter Walk: Dormant Tree Identification (2 credits)
Have you ever strolled through the woods in winter and wondered how to identify trees and shrubs without their foliage or flowers? Terry Hawkridge, assistant director of grounds, horticulture and arboretum, will lead a campus tree walk and explain how to identify dormant trees and shrubs. He will begin with a brief discussion of identification in the Taylor Science Center and will then lead a walk for about an hour on campus. Please prepare for the elements and dress warmly.
February 18 • The Art of Bonsai
Bill Valavanis, founder of the International Bonsai Arboretum in Rochester, is a leading worldwide lecturer on the art of bonsai (www.internationalbonsai.com). He will present on bonsai for both the novice and skilled enthusiast.
March 3 • Pruning Clinic (2 credits)
"Target Pruning" is the practice of pruning a tree or shrub to make it grow in whichever direction or fashion you desire. Terry Hawkridge and Lead Horticulturist Dan Rouillier, both ISA Certified Arborists, will presentan indoor pruning clinic, demonstrating target pruning techniques on shade trees, fruit trees and deciduous and evergreen shrubs.
March 17 • Native Plants and Sustainable Landscapes (2 credits)
Daniel Segal, a 1990 Hamilton graduate, will present on growing native plants and the natural way to create beautiful and sustainable landscapes. In 2006, Segal purchased The Plantsmen Nursery in Ithaca, N.Y. He has been engaged in horticulture, landscaping, botany and the nursery business for the last 18 years in California, Virginia, New Jersey and New York.
April 21 • Southern Gardens (1 credit)
Sheila Wertimer, a Clinton native, is a registered landscape architect who has been active in the field for 25 years. Since 1985, she has designed and executed more than 300 projects including private gardens, plantations and a variety of public and commercial landscapes. In this presentation she will take attendees through her southern gardens.
May 26 • A.P. Saunders Tree Peony Fest
Arboretum Director Terry Hawkridge and Lead Horticulturist Dan Rouillier will present a seminar on A.P. Saunders and the hybridization of his world class peonies on College Hill from 1920-1940. The horticulture of peonies will be covered from hybridization to harvesting blooms. The program will conclude with Root Glen tree and garden tours. Please meet in the Grant Garden behind the Elihu Root House (yellow house on College Hill Road across from Campus Road).