Arboretum Association Hosts "Putting Your Garden to Bed"
---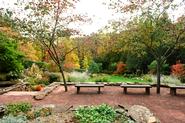 The Hamilton College Arboretum Association will present a workshop "Putting the Garden to Bed," on Saturday, Oct. 15, from 10 a.m. – noon, in the Kennedy Auditorium, Taylor Science Center. The workshop is free and open to the public.
Arboretum Director Terry Hawkridge will talk about plant health care; site
conditions; the care and maintenance of perennials, shrubs and trees;
winter preparation; insects and pathogens — and answer your questions.