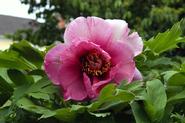 The Hamilton College Arboretum will host the A.P. Saunders Peony Festival on Saturday, May 31, from 10 a.m. to noon, in Grant Garden. The festival celebrates the world-class, hybridized tree and herbaceous peonies of the Grant Garden in Hamilton College's Root Glen. The event is free and the public is invited to attend.
Enjoy them when they are in full bloom. An expert will give a brief talk on peony culture and there will be a planting display and tree and garden tours. A.P. Saunders hybridized the peonies from 1920 to 1940 on College Hill.
Guests are asked to meet at the gazebo behind Elihu Root House (parking lot adjacent to the corner of College Hill Road and Campus Road).