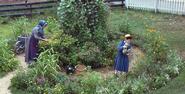 The Hamilton College Arboretum Third Saturday series continues on Saturday, April 18, with research historian and garden history consultant Christie Higginbottom. She will give a lecture titled "Fashion in Flowers: Ornamental Gardens in the Early Nineteenth Century" at 10 a.m. in the Taylor Science Center's Kennedy Auditorium.
Christie Higginbottom has worked as a costumed interpreter at Old Sturbridge Village since 1981. She coordinated the historic horticulture program researching, planning and planting the re-created kitchen and flower gardens at the museum's historic households. Higginbottom also supervised the Village's Herb Garden collection, a garden exhibiting over 300 varieties of historic herbs.
Parking is available near the building. All Arboretum events are free and open to the public and everyone interested in gardens and landscapes is encouraged to attend. Pre-registration is not required.