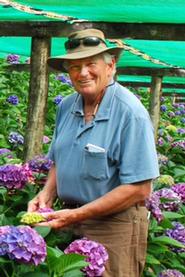 Mal Condon, founder of Hydrangea Farm Nursery, will present a lecture titled "Success with Hydrangeas" on Saturday, Nov. 14, at 10 a.m., in the Kennedy Auditorium, Taylor Science Center. The lecture is part of Hamilton's Arboretum Series and is free and open to the public. It will be followed by a question and answer session.
Condon and his wife, Mary Kay, founded and operated Hydrangea Farm Nursery on Nantucket Island for many years. They relocated to Yarmouth Port on Cape Cod and are currently re-establishing a propagation operation to continue the internet and mail order segment of Hydrangea Farm. Formerly an engineer, Condon brings a strong technical and investigative nature to the continuing development of hydrangeas.
Condon was a major force for the Hydrangeas 2015 Conference and the Cape-wide Hydrangea Festival this past July. He is currently the curator of the Hydrangea Collection at Heritage Museums & Gardens in Sandwich, Massachusetts, and the president of the Cape Cod Hydrangea Society. He frequently delivers presentations to avid garden clubs, horticultural associations, and plant societies in the United States and other hydrangea-centric locations worldwide.
The lecture will be a digital presentation that features detailed images and graphics relevant to topics such as major species, critical cultural issues, and seasonal pruning best practices to maximize blooming.