Archaeology Class Breaks Ground on Campus
---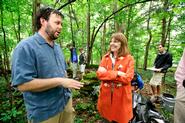 It is not often that an archaeology class has the opportunity to excavate a site of probable historic significance without leaving campus. Members of the Archaeology of Hamilton's Founding course, taught by Assistant Professor of Anthropology Nathan Goodale, broke ground at a site just off College Hill Road on Thursday, Sept. 1.
Selected because of its possible association with key figures in Hamilton's past including Samuel Kirkland and former Professor of Latin and Greek Edward North '41, the site will be excavated by the students during the next seven weeks. They will analyze and research the artifacts recovered from excavation in the following weeks. Local NBC affiliate WKTV taped the first day's digging for a news broadcast.
Maurice Isserman, the Publius Virgilius Rogers Professor of American History who is teaching the History of Hamilton College course, was on hand to witness the groundbreaking as was President Joan Hinde Stewart. Isserman is the author of On the Hill: A Bicentennial History of Hamilton College which is required reading for this archaeology course.
The site is located in a wooded area of campus on which sits the stone remnants of an unidentified semi-circular structure and a stone marker that reads, "This tree was planted by Samuel Kirkland to mark the property line between the Whites and the Indians, surveyed in 1768."
Who created and sited the marker, which is located a short distance off College Hill Road, is a mystery. Suspicions are that the responsible individual is Edward North, Class of 1841, who taught Greek and Latin at Hamilton for more than half a century and lived in the house closest to the marker. The property line to which the stone refers may be the dividing line established under the Treaty of Fort Stanwix.