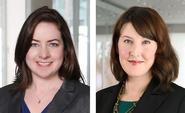 An overview of educational programs offered by the Ruth and Elmer Wellin Museum of Art was presented at the 2014 New York State United Teachers Regional Education Conference on Nov. 7 in Utica, N.Y.
In "Connect Art and the Core Curriculum," Manager of Educational Programming and Outreach Megan Austin and School and Family Educator Amber Spadea discussed Wellin programs to help teachers incorporate art in the VTS (visual thinking strategies) component of the Common Core State Standards. They also offered a preliminary level VTS training session for the teachers.
Earlier that day, Austin and Spadea attended a meeting of the Center State Teacher Center Policy Board at Oneida-Herkimer-Madison Board of Cooperative Educational Services (OHM BOCES) in New Hartford, N.Y. They introduced the Wellin's educational resources to leaders of the New York State Teacher Center for the local area.