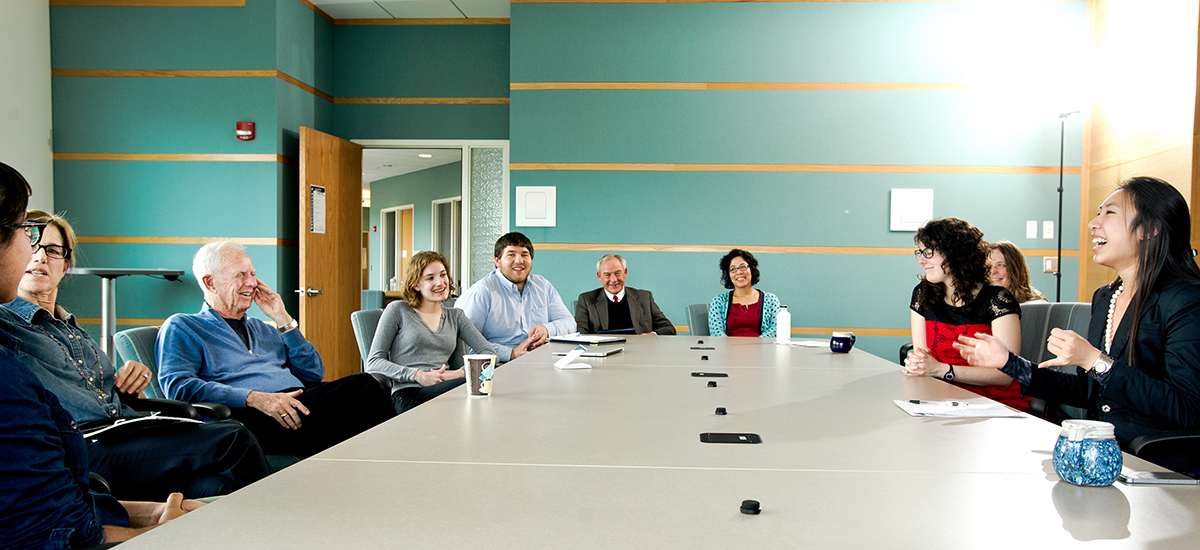 Arthur Levitt Jr., and Lauri Levitt Friedland '81 visited campus on Friday, Oct. 31 and met with 15 Hamilton students. The students discussed their work as Levitt Research Fellows, Social Innovation Fellows and Public Service Interns, as well as their experiences with Project SHINE, the Innovation Roundtable, the Levitt Leadership Institute and the Levitt Social Innovation Team.
Both Mr. Levitt and Ms. Friedland engaged all the students in energetic conversation, with numerous questions and positive comments. Mr. Levitt also advised students to be open to many different career opportunities, especially those that will allow them to make a meaningful difference in the world.
Tsion Tesfaye '16, a Levitt Social Innovation Fellow, described her social innovation project, a leadership-training program for high school students in her home country of Ethiopia. Ryan Ong '16 spoke about his plan to develop, along with other Hamilton students, a fashion social enterprise that will be used to support programs for homeless LGBTQ youth. Jose Vasquez '15 described his experience as a Levitt Public Service Intern and his work with Susan Mason in helping design a leadership theory course.
Josh Glen '16, Megan O'Sullivan '15, and Brian Sobotko '16 all discussed their experiences with the Levitt Leadership Institute (LLI). O'Sullivan also explained her LLI commitment project, the first-year leadership program LEAP.
Sawyer Konys '16 and Sarah Izzo '15 both Levitt Research Fellows, shared their findings. Emma Wilkinson '16 discussed the Levitt Social Innovation Roundtables; Lisa Yang '17 focused on the work of the Hamilton Micro-Finance group; and Daphne Assimakopolous '17 discussed Project SHINE. Sharif Shrestha '17 discussed his work with a Clinton Global Initiative team in Nepal this past summer. Eren Shultz '15 along with other members of the Social Innovation Team (Lisa Yang '17, Thomas Figueroa '15, and Zach Pilson '16) discussed the process of designing the new Levitt Social Innovation Lab and their plans for its use.