Artist John Suplee '69 to Discuss History of Hamilton's Trees
---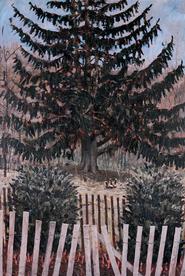 The Hamilton College Arboretum Association will host a presentation titled "Stalking Hamilton's Trees for a Half Century," with artist John Suplee '69, on Saturday, April 20, at 10 a.m., in the Kennedy Auditorium, Taylor Science Center. This event is sponsored by the College and its Arboretum Association and is free and open to the public. Pre-registration is requested by calling (315) 859-4657 or email arboretum@hamilton.edu.
Suplee, a member of Hamilton's Arboretum Advisory Committee, will go beyond his paintings to share – for the first time – a generous selection of his documentary photographs and recount his recollections of Hamilton's arboreal past. He is an established artist who has been painting the College's trees for almost 50 years. Suplee was the first Hamilton student artist to organize and install his own four-year "Retrospective" of more than 100 works created here. Because Suplee's archive dates from his arrival in 1965, the campus elms and their loss will figure prominently in these images.
The Arboretum Association is committed to protecting and sustaining the natural environment at Hamilton College. Its mission is to preserve the historic Hamilton College landscape, to build upon the diversity of the collection with sustainable species, and to reinforce the aesthetic character of the campus. It seeks to provide visitors with a broader understanding of the campus landscape and promote long-term stewardship of the environment.