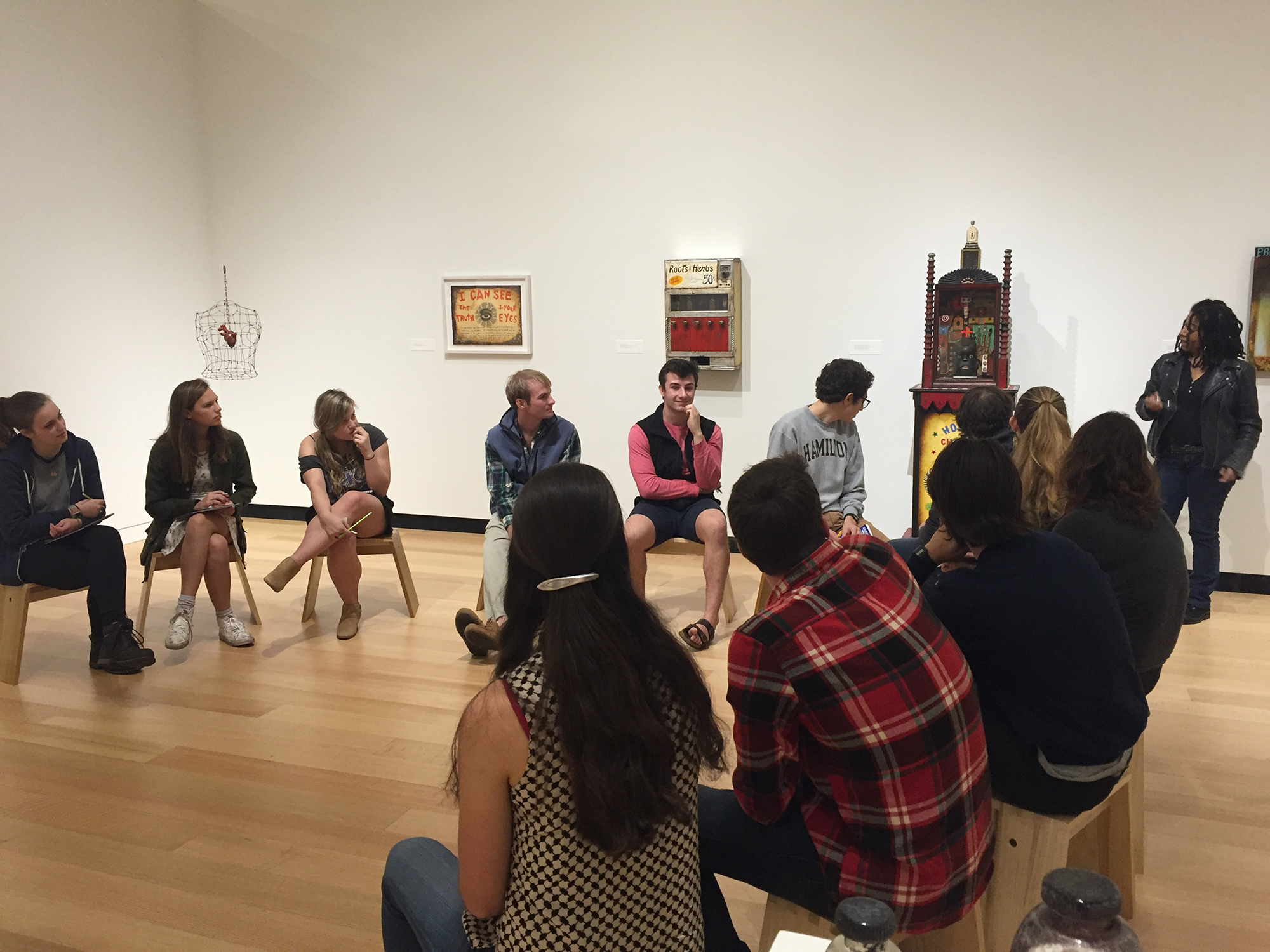 The Ruth and Elmer Wellin Museum of Art welcomed visiting artists Renée Stout and Karen Hampton on Nov. 4 for Artists in Conversation, a panel discussion about their exhibitions currently on view. Hamilton faculty, students and community members gathered in The Overlook classroom— and there was not an empty seat in the house. Wellin Museum Director Tracy Adler provided an enthusiastic introduction. Facilitated by Adler, the panel proceeded fluidly and with an infectious energy; Adler began asking the visiting artists questions, and then the floor opened up to the audience to ask questions as well.
Both Stout and Hampton access themes of ancestry in their work, as seen in the Wellin exhibitions, and so a significant portion of the panel centered on a discussion of these artists' personal experiences with family and origin. Having been acquainted before collaborating with the Wellin Museum, Stout and Hampton also fondly reminisced about when they first met. The two artists engaged with one another and the audience with tremendous investment, care and intelligence.
Several students quietly lingered in the aisles taking pictures to document the event, while others in the audience attentively listened, many taking notes. What an inspiring duo of contemporary artists to come and share with the Wellin Museum and Hamilton community—buzz about the Artists in Conversation panel with Renée Stout and Karen Hampton spread from the Wellin Museum across Hamilton's campus.
While on-site, the artists also met with a number of classes; Introduction to Creative Writing with Professor Tina Hall, Professor Celeste Day-Moore's History course Black Business: African American Culture, a Creative Non-Fiction Workshop with Professor Naomi Guttman, and Professor Steve Goldberg's African-American Art History course.
At the Wellin, students and faculty toured the current exhibitions and spoke with the artists about their work, process and thoughts about the topics pertaining to each class. The Wellin Initiative for Student Engagement (WISE), a student organization associated with the museum, held a Coffee and Conversation meet and greet event in the Wellin's Archive Hall. This student-only event was an informal conversation with Stout and Hampton about their careers, thoughts about the art world, and artistic influences.
Renée Stout: Tales of the Conjure Woman and Karen Hampton: The Journey North will remain on view through December 20. Museum Hours: Tuesday – Sunday, 11 a.m. – 5 p.m. The museum is closed on Mondays.