Asad Javed '15 Pursues His Love of Film
---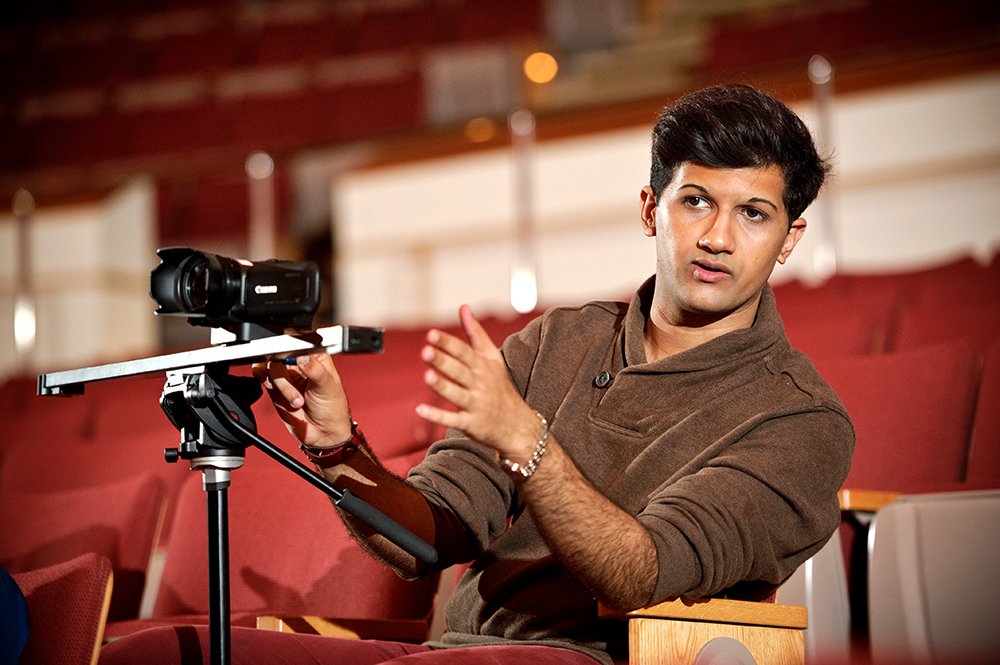 Asad Javed '15 has a true passion for film. "I've been dabbling with [film production] ever since I could count my age on my fingers," he said, At Hamilton he has managed to combine his diverse interests in creative writing, English, cinema and new media studies, theater, dance and Africana studies into his own film studies concentration. This summer, Javed is immersing himself in the production industry, interning with Mindfile Multimedia.
Administered by Hamilton's Career Center, The Summer Internship Support Fund II is helping to subsidize Javed's summer in New York City.
Mindfile Multimedia is a nine-person video production team founded by James Curry in 2008. The team members have years of professional experience in pre-production, filming and post-production work. Javed is also assisting Mindfile's partner company ShoulderHill Entertainment with different projects throughout the summer.
Mindfile recently collaborated with Men's Health Magazine on a "Winner's Playbook," feature video, in which they documented a surfer's, boxer's and soccer player's grooming regimes while maintaining a busy schedule. Other projects include an ABC volunteer public service announcement involving actors Tim Allen and Christina Ricci and a feature with Alicia Keys for Empowered, a campaign supporting women with HIV.
Javed never expects his next workday to be like the last. On some days, he completes various editing functions on recent film projects, captions different segments, collects equipment and contacts media and television networks. On other days, however, he may need to arrive at the office by 4:30 a.m. and work on a film shoot late into the evening.
Many clients hear about Mindfile by word of mouth or by inquiring about the company after seeing a production they admired. Javed also heard about the internship through a network of friends and alumni. Much as Hamilton's small community attracted him to the college, the firm's size is what interested Javed in the company. He is comfortable with everyone in the office and "truly feels like a member of the small team."
Javed said this summer "is an opportunity to practice what I otherwise wouldn't have a chance to," and also admitted "I'm like a kid in a candy store whenever I get to explore the equipment room." Their gear room has some impressive cameras, lighting equipment and other electronics that Javed has used to develop his skills.
Javed will continue exploring his interests via an independent study next semester during which he plans to produce a feature film. He plans to study in Paris, France, in the spring to work with accomplished filmmakers and tech crews. Javed will also spend the fall semester of his senior year in Prague, where he hopes to learn advanced videography techniques and produce another short film. His future goal is to "pursue a career in filmmaking after his experiences abroad and at Hamilton.
Javed is a graduate of Lahore College of Arts & Sciences (Pakistan).