Ashley Merriman '98 Sharpens Knives for Bravo's Top Chef: Las Vegas
---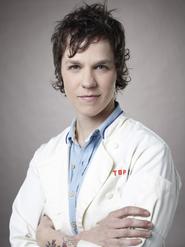 Bravo TV recently announced the names of seventeen gourmets who will vie for the title of "Top Chef" on
Top Chef: Las Vegas
, the sixth and yet most sinful season of the cable network's popular culinary reality show. Among the contestants is
Ashley Merriman '98
, who brings years of restaurant experience in New York City and Seattle, Wash., to the chopping block. In true showbiz fashion,
Top Chef: Las Vegas
boasts celebrity guest appearances by Paul Bartolotta, Michelle Bernstein, Jerome Bocuse, Daniel Boulud, Todd English, Tyler Florence, Hubert Keller, Nigella Lawson, Tim Love, Charlie Palmer, Penn and Teller, Natalie Portman, Wolfgang Puck, and Laurent Tourondel. The season premier airs Wednesday, August 26, at 9 p.m. ET/PT.
Top Chef
is the top-rated culinary program on cable television, and one of the most critically acclaimed, having won several Primetime Emmy Award nominations and one statuette. Each season follows seventeen competitors as they endure a weeks-long pressure-cooker of culinary trials. "Quickfire" challenges test basic cooking skills and earn the chefs special privileges, while the more daunting elimination challenges assess the chefs' versatility and ingenuity in the kitchen. These latter challenges range from preparing and cooking unusual ingredients to catering to discriminating clientele. Based on his or her performance in the various challenges, one chef per week is told to "pack up their knives" and head home.
Cookbook author and actress Padma Lakshmi, renowned chef and Craft Restaurants owner Tom Colicchio,
Food & Wine
magazine contributor Gail Simmons, and food critic and bestselling author Toby Young return as the panel of epicurean judges.
Ashley Merriman has worked as cook at Butter in New York City and as sous-chef at Tilth in Seattle, Wash. She is currently employed as chef at
Branzino
in Seattle.
Merriman received her formal culinary schooling at the Institute of Culinary Education in New York City. Merriman graduated from Hamilton College with a degree in women's studies. As a student, she played on the varsity women's basketball team. She was active in GLBSA, the Kirkland Project, and Pentagon.
Merriman resides in Seattle.