Atelier Four Exhibits at Herkimer County Community College
---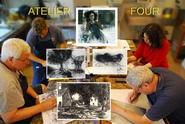 Atelier Four will exhibit 40 intaglio prints in the group's last exhibition of the academic year at the Herkimer County Community College (HCCC) Cogar Gallery from April 3 through May 15. An opening reception will be held Wednesday, April 8 from 6-8 p.m. The reception and exhibition are free and open to the public.

Atelier Four is a group which includes Hamilton College professors Bruce Muirhead and William Salzillo and alumni Amy Georgia Buchholz '80 and Jake Muirhead '86, artists who work together in the collaborative workshop spirit unique to printmaking. Linked philosophically to the Arts and Crafts Movement that has deep roots in upstate New York, this group is committed to keeping alive the tradition of studio printmaking, while promoting its contemporary relevance. Previous exhibitions of the group's work this year have been held at t he Delavan Gallery and Cazenovia College Gallery.

According to the HCCC news story, "The selection of 40 intaglio prints contrasts and compares the working methods of the four collaborators whose teacher/student relationships developed into lifelong friendships that have shaped their art and careers.

"Each artist in the exhibition represents a different approach to intaglio printmaking. Bruce Muirhead is a self-defined painter/printmaker in the romantic mold. … William Salzillo's new prints reference historical styles, a direction inspired by his curatorial research as director of Hamilton's Emerson Gallery from 1982-1993 and 1999-2001. … Her [Amy Bucholz's] recent dry points, based on nature subjects, reference the aesthetic philosophy of the Etching Revival. Jake Muirhead … is currently associate in charge of etching at Pyramid, Atlantic, Silver Springs, Maryland."

The Cogar Gallery is open Monday through Friday from 8:30 a.m. to 7 p.m. when the College is open. It is located at the entrance of the Hummel Corporate and Professional Education Center at the main entrance to the Robert McLaughlin College Center. HCCC is located just off Exit 30 of the NY State Thruway at 100 Reservoir Rd in Herkimer.