Athina Chartelain '13 Named Hamilton's 37th GOLD Scholar
---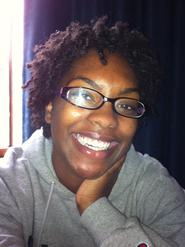 Name: Athina Chartelain '13
Hometown: Brooklyn, N.Y.
High School: HS for Health Professions and Human Services
Major: Communication
Minors: Education and Hispanic Studies
Campus activities: Black and Latino Student Union, Young People's Project (communication coordinator, Christian Fellowship, Feminist of Color Collective, Sustah Girl, Resident Advisor, Student Manager for Bristol Center, Project Shine, Diversity Overnight Recruitment Intern, Junior Year Abroad in Spain
FAVORITES
Movie: The Notebook
Song: "Superwoman" by Alicia Keys
Place You've Lived on Campus: McIntosh, Carnegie, Dunham
Book: Oh the Places You'll Go by Dr. Seuss
Hobbies/Interests: Traveling, reading, shopping, watching Law & Order: SVU, cooking, listening to music
Place on Campus: The fireplace area in Sadove Center
Campus Dining Spot: Commons
Hamilton Memory: Taking a picture with Condoleezza Rice!
Quote: "Cause I'm a woman phenomenally. Phenomenal woman, that's me." Maya Angelou

Where did you grow up?
I was born and raised in Brooklyn. Although I come from a neighborhood where teen pregnancies and the high school dropout rate are at all-time highs, I learned that I do not have to submit to the status quo. I took advantage and made the most out of every opportunity presented to me.

Describe your family?
My mom has worked hard to provide for me. She always wanted me to have the best in life, even when I don't deserve it sometimes. Although she may not agree with some of my choices in life, she supports me. My brothers Dudley and Reginal are very protective. Being the youngest and the only girl has it pros and cons. The cons are that I had to play basketball and football when I would rather have played Barbie dolls, I become the remote control when the actual one cannot be found, and when a boy calls the house, I have to explain a million and one times who he is, why he is calling, and that he is just a friend! However, the pros are that if anyone bullies me, they have to answer to my big strong brothers. My family is my backbone and the reason I am here today.

What was high school like? What were your favorite activities? Who inspired you?
High school was a blast. I met some amazing and wonderful people. The teachers there were very supportive and committed to teaching students. My favorite activities were playing volleyball, going to the basketball games to cheer, attending school talent shows, ballroom dancing, working on the senior yearbook and hanging out in Ms. Sewell's office at the end of every school day. All the teachers were wonderful, but it was Ms. Schubert (my junior high mentor), Mr. Friedman, Mr. Jensen, Mr. Papanikolaou, Ms. Sewell and Mr. Kaufman who really made an impact. Both Ms. Schubert and Mr. Jensen taught me that life is precious and comes only once, so live life and have fun. Their words of wisdom will always remain tattooed in the forefront of my mind.

How did you discover Hamilton?
My college counselor recommended that I apply. She loves Hamilton's open curriculum and the emphasis on making students better writers.

What were your first impressions of the College? Do you find they're still true today?
I visited Hamilton on Accepted Students Day. As I was driving closer to Hamilton I thought, "Wow this is a small town! So much snow! Where are the malls?" When I arrived I said to myself, "This campus is way too small! There is too much snow! It is ridiculously cold! Get me out of here!" and then I went to visit Syracuse University. Now that I am a sophomore, I can say that attending Hamilton was one of the best choices I have made thus far in my life. Although the campus is small in relation to big universities, I love the close-knit community that Hamilton provides. In addition, the small classes allow me to develop a personal relationship with my professors.

What Hamilton mentor has inspired you?
One person who has been there for me since day one is Ms. Breland. Adjusting to the workload and expectations here at Hamilton, and being away from home, was not easy for me. There were times that I wanted to quit and drop out of school because I was overwhelmed. However, Ms. Breland encouraged me to work harder and smarter, find out what is not working in my routine and correct it. She had faith in me when I did not have any in myself. In a sense, she is my "guardian angel." Other significant people who have inspired me are my advisors Professor Mason, and Professor Phelan and Noelle Niznik. Whenever I needed them, they were there with open hands to help me.

Have you volunteered as a student?
I volunteered my freshman year for Project Shine where I worked with immigrants and refugees every Friday afternoon and helped them establish the basic fundamentals of the English language. The language barrier was a challenge for me, but with dedication and perseverance, I learned to bridge that communication gap. Throughout the duration of my time participating in Project Shine, I came to form bonds and relationships with individuals from all different races and backgrounds. I learned a lot from the refugees, and I strongly believe they have learned a lot from me.

What are your plans after Hamilton?
If all goes well, I would like to teach English in a third-world country for at least a year. Also, I want to travel and explore many different cultures. I may eventually pursue graduate school, but I want to explore other options.

What advice or perspective would you share with alumni?
Live, love and laugh! Life is precious so enjoy it.