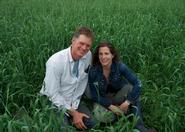 Mark and Kristin Kimball, owners and operators of Essex Farm in the Adirondacks, will present a lecture titled "Food Ethics: A Farmer's Perspective" on Tuesday, March 10, at 7:30 p.m., in the Taylor Science Center's Kennedy Auditorium. The Kimballs' lecture is free and open to the public.

Mark graduated from Swarthmore College with a self-directed degree in agricultural science. He has been farming for 19 years and has traveled across the country and around the world in search of a truly sustainable, diversified farm. Kristin graduated from Harvard University and worked as a writer and editor based in New York City.
The Kimballs founded Essex Farm in 2003. It is a year-round, free choice, draft horse-powered CSA that provides a full diet to 230 people. Kristin's memoir, The Dirty Life, chronicles Essex Farm's startup year.
Essex Farm Institute began as a formalization of the success of Essex Farm in training new farmers. In 10 years of operating the farm, the Kimballs have trained and mentored more than 50 beginner farmers who have started more than 10 new farms to date. Currently, Essex Farm Institute is organizing a monthly farmer-training workshop and beginning various research initiatives.
Essex Farm is also signed as a local partner for Hamilton's Academic Program in the Adirondacks. They will be supplying a large portion of Hamilton's food stores for the upcoming fall 2015 semester.