Award-Winning French Film Rives to Screen Oct. 25
---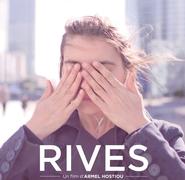 Independent French filmmaker Armel Hostiou will screen his latest production, Rives ("Day" in English), on Thursday, Oct. 25, at 7:30 p.m., in the Red Pit. The film is spoken in Bosnian, French and Urdu with English subtitles and runs approximately 75 minutes; Hostiou will answer questions after the showing.
Rives follows three distinct characters over the span of a single day in Paris. They are all strangers coming from different social and economic backgrounds; their paths never cross. However, due to one singular event, each is forced out of their normal environment and into the darker, unexplored regions of their city. Via patient observation, Rives studies the diversity of urban spaces and the oddities of everyday life.
Hostiou comes to Hamilton following a screening of Rives at the Brooklyn Academy of Music (BAM) as the "Curator's Choice" of a five-day festival on French and new independent cinema. The film premiered in 2011 at the Cannes Film Festival, and has since been featured in countless independent screenings across the world, including the Sao Paolo Film Festival for New Directors in Brazil, the O.F.N.I. Film Festival, and recently opened for the 2012 Miami European Film Festival. Following the Hamilton College screening, Rives will be shown at the 2012 Vermont International Film Festival in Burlington, Vt.
The screening is cosponsored by the Digital Humanities Initiative, Forum on Image and Language in Motion (F.I.L.M.), Cinema and New Media Studies Department, French Department, French Club and the Dean of the Faculty.