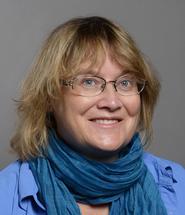 Award-winning novelist Trudy Lewis will read from her latest work on Thursday, Oct. 8, at 8 p.m., in the Fillius Events Barn. Lewis will also discuss the difference between Master of Fine Arts and Ph.D.'s with creative dissertations. The lecture is sponsored by the English and Creative Writing Department and is free and open to the public.
Lewis received a bachelor of arts degree from the University of Tulsa in 1983, a master of arts degree from the Vanderbilt University in 1985, a master of fine arts from the University of North Carolina-Greensboro in 1986, and a Ph.D. from the University of Illinois-Chicago in 1992. She is known for the novel The Empire Rolls, the short story collection The Bones of Garbo, for which she was awarded the Sandstone Prize in Short Fiction, and the novel Private Correspondences, winner of the William Goyen Award for Fiction. Lewis's work has appeared in Atlantic Monthly, Best American Short Stories, Chelsea, Fence, Five Points, Iris, Meridian, New England Review, New Stories from the South, Third Coast, Witness, and others.
Lewis is currently working on a historical novel about 19th century factory operatives in Lowell, Massachusetts. She teaches a wide variety of graduate and undergraduate courses in fiction-writing and women's and gender studies at the University of Missouri. Some recent topics have been energy & generation, feminist citizenship, modern manifestos, and adventure fiction.