Barclay Ward '59 Represents Hamilton at Sewanee Inauguration
---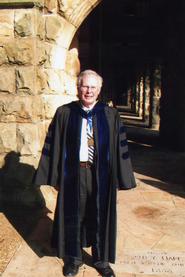 On Tuesday, October 12, Barclay Ward '59 donned his regalia to represent Hamilton at the presidential inauguration of John McCardell, Jr. at the University of the South (Sewanee). A professor of political science at Sewanee, Ward attended the installation festivities and served as a delegate for the College during the inaugural procession.
The inauguration coincided with Sewanee's convocation ceremony and its Founders' Day events. "It was an important occasion for Sewanee and elegant, as is Sewanee's custom," Ward said. In addition to attending the installing of McCardell, now the sixteenth vice-chancellor and president of Sewanee, Ward attended the Gala Dinner which commemorated the event.
The procession consisted of delegates from over 80 institutions. Traditionally, at the inauguration of a college or university a procession of delegates from institutions of higher educations, learned societies, and associations begins the ceremony. The invitation to participate in the procession is an honor for an institution, and Hamilton is proud to have had Barclay represent us at this event.

By Frederique Dupré '12