Barry Gives Paper at Global Climate Change Conference
---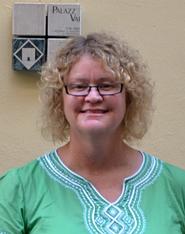 Joyce M. Barry, visiting assistant professor of women's studies, presented a paper titled "Situating the Particular and the Universal: Gender and Mountaintop Removal Coal Mining in the Context of Global Climate Change" at the Gender and Climate Change conference on Sept. 15 in Prato, Italy. The paper is part of a chapter from Barry's forthcoming book Standing Our Ground: Women, Environmental Justice and the Fight to End Mountaintop Removal.
In her paper, Barry argues that participants in environmental justice groups in particular Appalachian mountain communities are connected to more universal calls for the development and use of sustainable energy sources in the face of rapid climate change. Appalachian residents working to end mountaintop removal coal mining (MTR), many of them women whose homes and neighborhoods have been most adversely impacted by this large-scale form of coal extraction, consider MTR operations "ground zero" for climate change.
Currently, most climate change discourse on the use of coal focuses on the consumption or burning of this fossil fuel and the global carbon emissions it generates. Barry suggests it is equally important to consider the extraction or production of fossil fuels in rural spaces, the impact on the human and nonhuman environment and grassroots campaigns promoting renewable energy sources as ways to improve local mountain communities and address global climate change. Both men and women are affected by compromised environments and active in efforts to improve localized spaces in the North and South, but women constitute the majority of participants in environmental justice organizations throughout the world.
The Gender and Climate Change conference, sponsored by Monash University, brought together scholars from all over the world to highlight the connections between global poverty, climate change and environmental sustainability. This collective body of knowledge will provide input into the UN framework convention and the Earth Summit in 2012.